Full house as Company opens in downtown White Center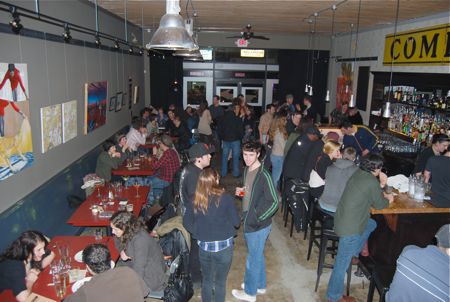 Story and photos by Deanie Schwarz
Reporting for White Center Now
After nearly 11 months of painstaking build-out, the Company Bar (9608 -16th Ave. SW in White Center) had its Grand Opening Thursday night, drawing a packed house of new patrons from near and far.
Large crowds filled the house, roughly 1,000 square feet in the heart of the 16th Avenue "renaissance row," joining Full Tilt Ice Cream, Proletariat Pizza, Uncle Mike's Barbecue and 3.14 Bakery as the newest joint on the block.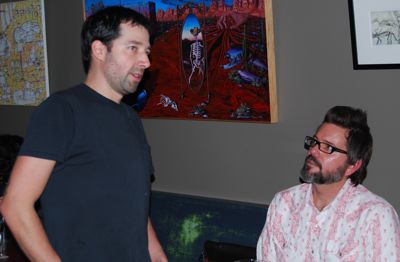 Owner Jesse Lovell (above left), a former contractor, did the buildout himself, along with major contributions from his stepdad Craig, also a general contractor. The two, along with their team of assorted tradespersons, have created what is being called the "high end" bar of White Center.
The attention to detail and thorough design is evident in the warm space and was noticed by the opening night patrons, who lauded Lovell for creating a comfortable, upscale environment, as well as for contributing to the enhancement of the WC business district and community.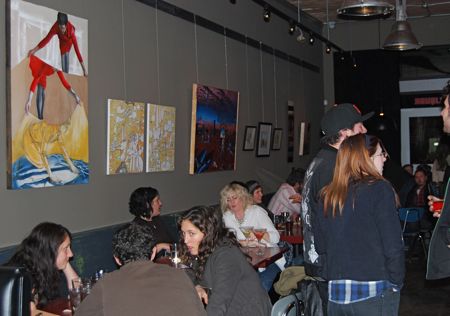 A dynamic, varied selection of art hangs on the expansive gray walls above tables Jesse built and painted. Clamshell style, ¾ round booths occupy every corner of the space and comfortably seat 8 – 10 people. Jesse and Craig built the bar too, a shiny, organic foil to the salvaged industrial lights above and stained concrete floors below. The high-ceilings is exposed, hand-sanded lathe and reflects the history of the building to balance the modern design sensibility.
It is said by some that the success of a bar is dependent upon the quality of the women's bathroom. Company's bathroom stands a good chance of becoming legendary among women because of the vivid abstract painting occupying the high ceiling.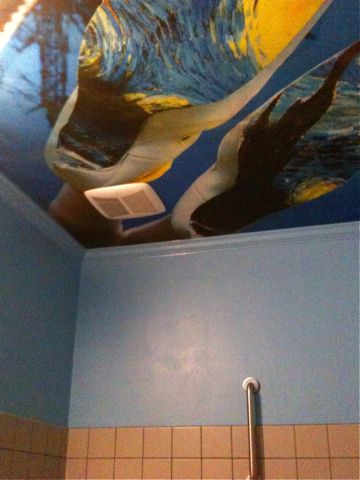 But Lovell did not stop with the attention to detail there. The standard Lovell has risen to with the warm urban design is continued with a well-considered menu. Lovell's friend and mentor, a chef at a popular, well-regarded Seattle restaurant, advised him on menu selections for an enhanced bar menu.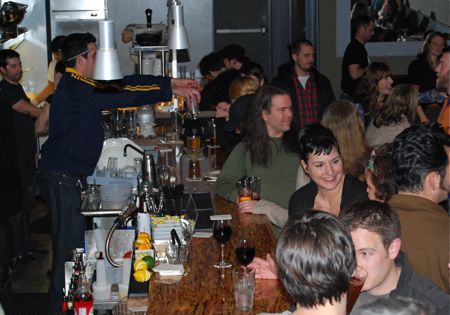 The menu for opening night is strong on appetizers and cocktails. Lovell plans to serve happy hour from 4:00 – closing each night through Sunday for the Grand Opening. While the menu and the tap list are likely to be rotated regularly in the next days and weeks, here is what Company is offering for now:
From the bar:
Tap list: Big Al's IPA, Manny's Pale, Rainier, Fremont Universal Pale, Old Seattle Lager, Skagit River Brewery Sculler's IPA.
Cocktails: All are $7.00 and include Rita Sidecar, Blueberry Lemondrop, Grapefruit Cosmo, Martinique Crusta, Company Old Fashioned.
From the kitchen:
Starters:
Spiced nuts – $3; Chickpea, eggplant or sweet potato fries – $5; salt cod fritters – $6; metaballs – $6; samosas $6; sopas (with la fondita salsa!) – $6; bacon wrapped dates – $6.
Salads:
Iceberg, beets, barley or mixed greens $7
Entrees:
Kebabs $12
Peppered beef, lemon thyme chicken, curried lamb, chili cumin pork
Comes with choice of 2 sides: braised greens, lentils, basmati rice, barley.
You can follow any responses to this entry through the RSS 2.0 feed. Both comments and pings are currently closed.