Got primer? Donations needed to help fight graffiti vandalism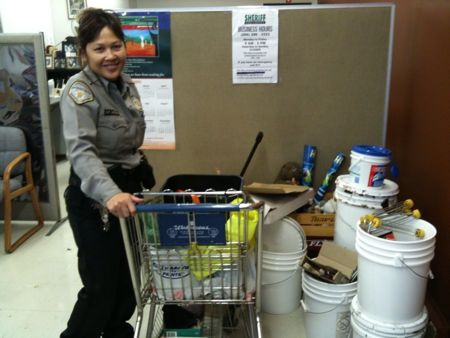 Story and photos by Deanie Schwarz
Reporting for White Center Now
Thanks to Gill, WCN got the heads-up that the King County Sheriff's Office storefront is currently in great need of graffiti-paintout supplies — in particular, outdoor primer.
Unlike the city of Seattle, which has a graffiti program, unincorporated areas like White Center must rely on donated materials.
On Wednesday, the city of Seattle donated about 15 gallons of paint, some brushes and rollers to the "quality of life" program, which Community Service Officer Vary Jackson (top photo) helps coordinate. But Officer Jackson told WCN that they still are in dire need of outdoor-only primer.
The "quality of life" program deploys misdemeanor offenders to address such issues as cleaning up graffiti vandalism, retrieving abandoned shopping carts, and picking up litter. Officer Jackson says that the brief snow we had a few weeks ago seemed to encourage a lot of tagging around the neighborhood, though she emphasized that this was mostly tagger-style graffiti rather than gang-turf-war-type markings. Even so, there is just so much of it since then, that they have used up the outdoor primer they had.
If you have unused primer to spare or are able to donate new primer, they are welcome to call Officer Jackson at the King County Sheriff's Office to make arrangements for donations that will be accepted gratefully. The phone number is (206) 296-3323. (Officer Jackson works out of the downtown White Center "storefront," at 9609 16th SW.)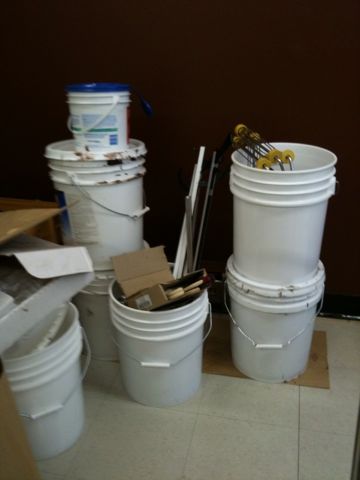 You can follow any responses to this entry through the RSS 2.0 feed. Both comments and pings are currently closed.