New edible garden helps feed White Center WIC clients, thanks to a Scout, a partnership, a grant, and volunteers!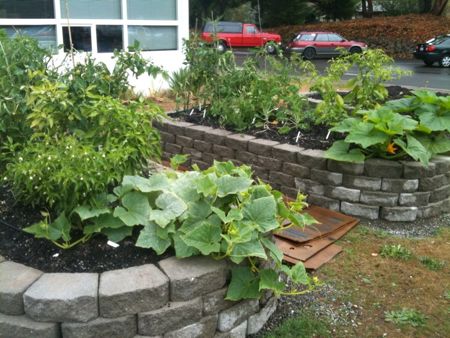 At SW 8th and 108th SW, the White Center Food Bank and King County Public Health's WC center are neighbors – sharing many of the same clients, and many of the same goals. Now, they've got something else in common – edible gardening. The raised beds you see above are part of an Eagle Scout-credit project by White Center's Patrick Ufkes, working with a fruit-and-vegetable grant secured through the Women, Infants and Children nutrition program, with the help of KCPH nutritionist Elizabeth Duroe. We dropped by the garden recently to find out more about it in a garden chat with (from left) Patrick, Elizabeth, and WC Food Bank executive director Rick Jump: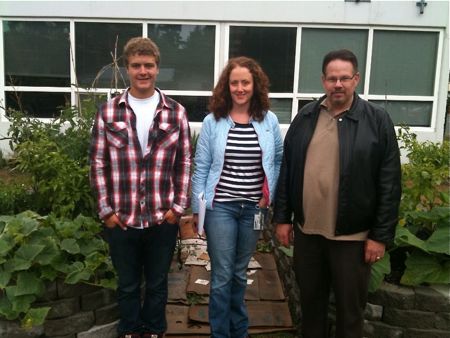 The garden is yet another means of getting fresh, healthy food to people who really need it. And with the multicultural nature of White Center's population, Rick says they've worked to make sure that what's grown in the garden can be of use to various cultures' food needs – Elizabeth notes they had seeds for more than half a dozen types of mustard greens, for example. Hot peppers have been important, too – as has assistance from gardening expert Lin Sierra. This all got started in midsummer, but is already yielding food – on the day we visited, they had just harvested nine more pounds of produce!
Volunteer help was key – Patrick marshaled forces including scouts from local Troop 375 as the beds were built and set up, and other members of his family (he is the son of White Center Chamber of Commerce president Mark Ufkes); others help tend the garden, such as AARP volunteer Thomas, who was there during our visit. Sustainability was key to securing the grant – not just the fact the bed can be planted year-round (fall/winter crops are in now like carrots, beets and snow peas), but also the materials, such as the beds being ringed with long-lasting bricks instead of wood.
Side note: Patrick is a Highline High School/South Seattle Community College Running Start student who's taking some time this quarter for a service project in Kenya!
You can follow any responses to this entry through the RSS 2.0 feed. Both comments and pings are currently closed.