Strength of Place Village groundbreaking in White Center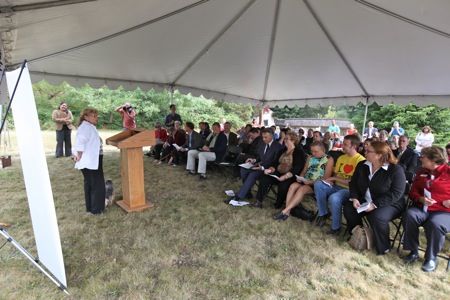 Big turnout in White Center this morning for the groundbreaking celebration kicking off the construction of Strength of Place Village – that's Duwamish Tribe chair Cecile Hansen offering a blessing, in our top photo, which State Sen. Joe McDermott described as,
"I think it is terribly fitting that we started today with greetings from the Chairwoman of the Duwamish Tribe. Native Americans have been in this area for at least 10,000 years. And on November 13, 1851 the Denny party arrived in West Seattle, not far from here. Back on the 4th of July a bunch of people gathered near there, in front of an institution that is now closed, and talked about how much "this place" matters. And I think that lesson is exceptionally important to remember today. This place does indeed matter. The partnership that we're celebrating today talks about the strength that can be harvested in this community at coming together to make this place as valuable as it can be to further enrich the value that is already here. I'm pleased the State had been able to play a role in housing this project. And I'm look forward to not only coming back to cut the ribbon, but to move boxes into the new homes next summer."
It's a 30-unit housing complex at 13th SW and SW 100th for low-income families (income no more than $55,000/year). It's also a collaboration between agencies including the Delridge Neighborhoods Development Association, the White Center Community Development Association, and Capitol Hill Housing. From those three agencies, with County Executive Dow Constantine, in the next photo, are WCCDA's Aileen Balahadia, DNDA's Derek Birnie, and CHH's Chris Persons: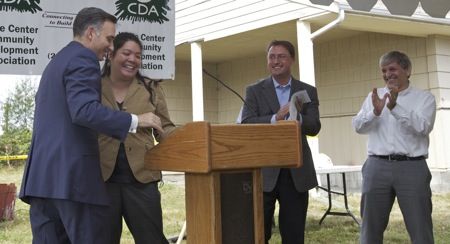 Balahadia said at the ceremony, ""As you can see, the strength of place here really isn't about place at all…of the bricks and mortar of a building…or the dirt and soil that we're going to be breaking ground on today. White Center is truly special because our people make it so. And we choose to work the White Center way where community works side by side with partners, policymakers, institutions, to lead the kind of change residents want to see in their community. SOPI is part of a greater White Center neighborhood action plan designed by residents. This property was initially identified and brought to our attention by the King County Sheriff's office due to some public safety concerns on the site. They asked if we could do something together on this? The CDA and DNDA worked closely with the original owners of the property on those safety issues. And the neighbors and local residents were all informed and were part of co-designing this project. So it has been a tremendous accomplishment." Of course, there was the ceremonial shovel-turning – can't have a groundbreaking without that: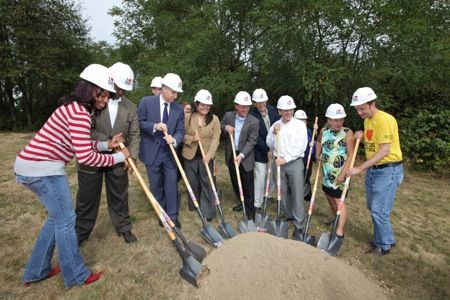 (With the shovels, from left, were White Center resident Laushonda Barquet, Impact Capital director Heyward Watson, Dow Constantine, Aileen Balahadia, Derek Birnie, Seattle City Councilmember Mike O'Brien, Chris Persons, King County Councilmember Jan Drago, State Sen. Joe McDermott.) Barquet, a 25-year White Center resident, said, "When I think about a neighborhood where I would want to raise my son I think of a place like this. Where my son and I have a place to grow and accel safely. Also have stable housing. I can catch the bus or even walk to work. You can walk to school. White Center is a place where you can get fresh produce and all different types of ethnic food. This is also a neighborhood that is a safe place for my child to play and a safe place to leave my doors open when I'm cooking or cleaning. That's why I participated as a resident in the design of SOPI Village and in raising awareness for the project. It is important that my voice and our voices provide the heart and soul in the leadership of a place like this, in White Center." Here's a closer look at the "I (Heart) White Center" hardhats: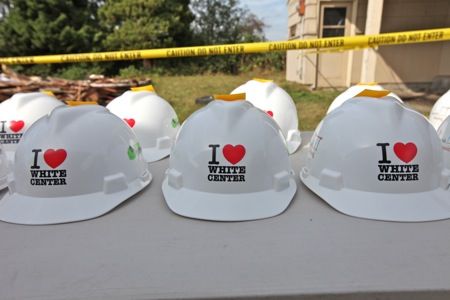 This is one of the renderings showing what Strength of Place will look like: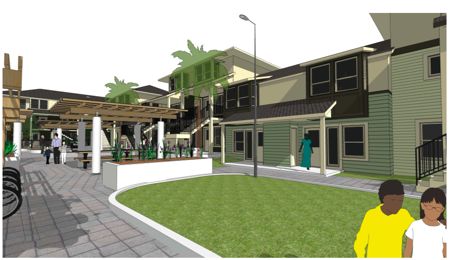 Demolition work continues at the site now.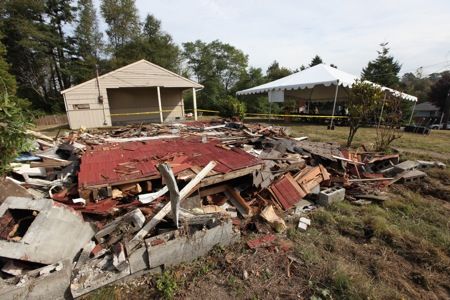 Tags: Strength of Place Village
You can follow any responses to this entry through the RSS 2.0 feed. Both comments and pings are currently closed.