North Highline Unincorporated Area Council: New members, and more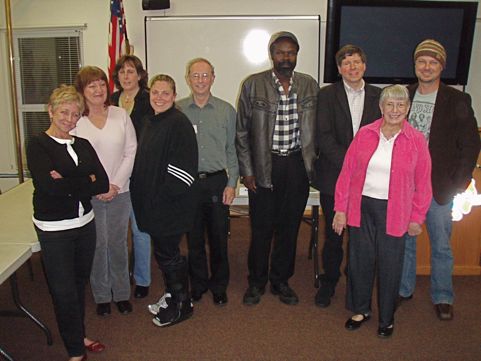 (North Highline council members Barbara Dobkin, Rebecca Lopes, Christine Waldman, Jessica Stoneback, Ron Johnson, Patrick Mosley, Richard Miller, Pat Price, Stephen Porter [not pictured: Heidi Johnson])
Story and photos by Jonathan Stumpf
Reporting for White Center Now
First up from last night's North Highline Unincorporated Area Council meeting at North Highline Fire District HQ: The seven winners of the May 20 election (District 1: Pat Price, District 2: Stephen Porter, District 3: Jessica Stoneback, District 4: Christine Waldman, At Large: Rebecca Lopes, Barbara Dobkin and Richard Miller) were seated for the first time as active council members.
But those who previously served got a moment of recognition too: King County Councilmember Jan Drago's executive assistant Holly Krejci recognized, on behalf of Drago, past members for their "timeless work on behalf of the North Highline Unincorporated Area Council," collectively serving 12 years.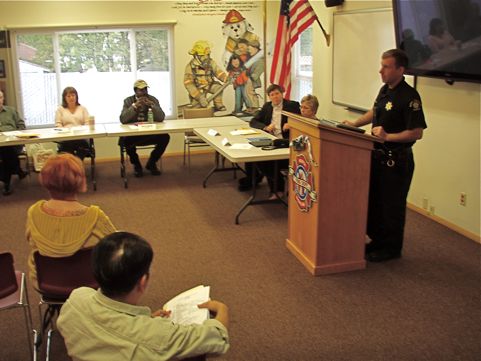 Up next, King County Sheriff's Deputy Jeff Hancock shared the monthly crime report that included:
* three felony assaults
* 10 misdemeanor assaults
* one stabbing
* two shooting calls
* one homicide
* two robberies
* 25 burglaries, of which two were commercial
* 20 auto thefts
These statistics were alarming to council members and residents, considering just months ago Hancock's crime report was significantly less. Hancock attributes this to fewer police on patrol, because the Weed and Seed and Byrne grants have finished funding and assisting with a higher police presence. Presently, this unincorporated area of King County has only two officers on patrol, and Hancock agrees that the numbers reflect this.
"We can't do proactive police work," said Hancock. "The best thing you can do as residents is be a good neighbor." However, he did emphasize that should a high priority crime take place, backup is only minutes away from the Seatac or Burien police departments.
Council Member Patrick Mosley did ask about a new drug on the streets called 'wet'–marijuana cigarettes dipped in embalming fluid — to which Hancock did say they had seen an increase in its abuse.
Also visiting from King County was Paulette Norman from the Roads Division of the Transportation Department, to distribute and discuss the South Park Bridge Final Closure Plan, also found here. Norman emphasized that even if funding was secured tomorrow, the bridge would still close as currently scheduled at 7 pm June 30th, because it would take almost three years to dismantle and rebuild a new one.
She did agree with most in the audience that the area around the bridge won't look aesthetically pleasing for a while, and she also emphasized they are doing everything possible to help with the traffic diversions, including the installation of new digital message signs to help with communications of any traffic issues to commuters. These are going up along 1st Ave South, Highway 99, 509 and 599, hopefully she said, right around June 30, the day the bridge closes.
The North Highline Unincorporated Area Council meets the first Thursday of every month at the North Highline Fire District Office. Visit www.northhighlineuac.org for more info.
Tags: North Highline Unincorporated Area Council
You can follow any responses to this entry through the RSS 2.0 feed. Both comments and pings are currently closed.