White Center-South Delridge Community Safety Coalition: Who's new, what's new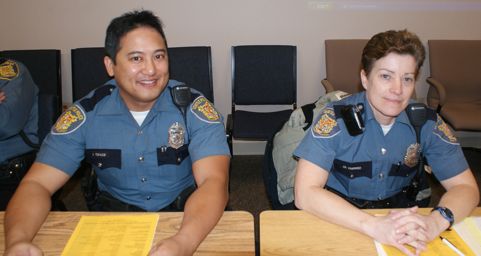 Southwest Precinct Community Police Team Officers Adonis Topacio and Jill Vanskike were both at the White Center/South Delridge Community Safety Coalition meeting Thursday night to pass the baton, in a way. She's taking over the CPT work in the precinct's southeastern turf; he's moving to the west. With them, but not pictured, was Lt. Norm James, who also is in a new role at the precinct, that of Operations Lieutenant, since Lt. Steve Paulsen is transitioning to the West Precinct downtown. As we've reported on partner site West Seattle Blog, Lt. James has been with the precinct for several years, so he knows the area and the issues. He also introduced John McGoodwin, who's taking over as SW Precinct city attorney liaison since Beth Gappert has moved to Vice.
All those introductions took up most of the discussion involving the Seattle side of the Community Safety Coalition's turf, aside from a few items that also came up last night when Officer Topacio was at the Highland Park Action Committee meeting – including graffiti in Highland Park (last night's questions involved 12th SW between 8200 and 8400).
Officer Topacio was asked about an e-mail going around from a West Seattle burglary victim claiming police were trying to catch a gang of teen burglars that was striking multiple times each day; he pointed the inquirer to our WSB story debunking that part of the tale.
On the King County Sheriff's Office side of the line, Deputy Jeff Hancock was late to the meeting – said he'd been in a foot chase with someone wanted by the state Department of Corrections; the suspect was caught after running into Brewsky's in downtown White Center. The only other update he offered was that "person-to-person" robberies are way up over this time last year, and no one yet knows why.
The rest of the meeting focused on a presentation about the Strength of Place Village affordable-housing project, 30 units planned for 13th SW/SW 100th (right behind Big Al Brewing). Architects Roger Tucker and Vlad Oustimovitch, with Kate Stineback from project overseers Capitol Hill Housing, gave a presentation and answered questions. We first reported plans for the project on WSB more than two years ago; according to a handout circulated at last night's meeting, they're hoping to break ground on the 30-apartment project this June, wiht the first families moving in a year later.
White Center/South Delridge Community Safety Coalition meets at 6 pm the fourth Thursday of the month, now at DSHS offices, 9650 15th SW.
Tags: Crime, white center community safety coalition
You can follow any responses to this entry through the RSS 2.0 feed. Both comments and pings are currently closed.