King County Sheriff's Office asks for your help in finding hit-run vehicle
ADDED 2:50 PM: A reward's now being offered to solve this crime. Here's a flyer with information about that and about the victim: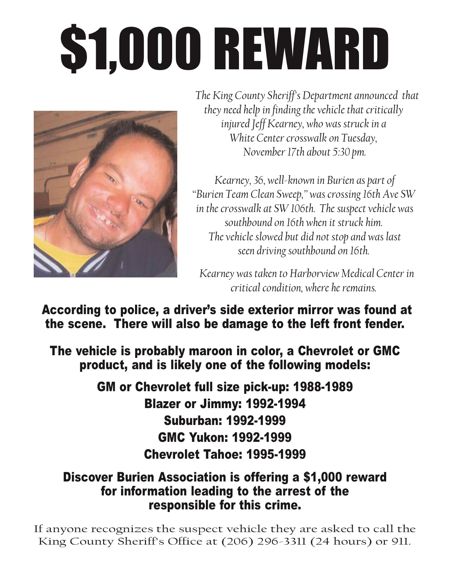 FROM 9:27 AM: Another followup to Tuesday night's crash – this just in from the King County Sheriff's Office:
The help of the public is needed to find the vehicle that struck and critically injured a pedestrian in a crosswalk two days ago.

The incident occurred about 5:20 PM on Tuesday, November 17th.

A 36 year-old White Center man was crossing 16th Ave SW in the crosswalk at SW 106th. The suspect vehicle was southbound on 16th Ave SW and struck the man. The vehicle slowed but did not stop and was last seen driving off southbound on 16th.

The victim was taken to Harborview Medical Center in critical condition.

A driver's side exterior mirror was found at the scene. There will also be damage to the left front fender.

The vehicle is probably maroon in color, a Chevrolet or GMC product. It is one of the following models:

GM or Chevrolet full size pick-up 1988-1989
Blazer or Jimmy 1992-1994
Suburban 1992-1999
GMC Yukon 1992-1999
Chevrolet Tahoe 1995-1999

If anyone recognizes the suspect vehicle they are asked to call the King County Sheriff's Office at (206) 296-3311 (24 hours) or 911.
Tags: king county sheriff's office, white center
You can follow any responses to this entry through the RSS 2.0 feed. Both comments and pings are currently closed.