Update: Boundary Review Board gives preliminary OK to Burien's proposed North Highline Annexation
(below, our notes on the meeting as it happened, start to finish)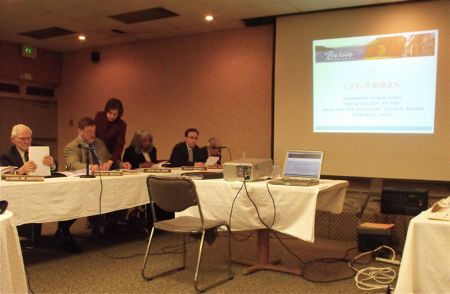 7:06 PM: We're at the Riverside Residences in Tukwila, where the King County Boundary Review Board is about to start its public hearing on Burien's proposed annexation of part of North Highline. This is a key step along the path to the proposed August 18 public vote. We'll be posting live updates here as it happens. Vice chair Robert Cook has recused himself from consideration of this matter; member Lynn Guttmann is ill. The hearing starts with various explanations of how the process works. Special assistant attorney general Robert Kaufman has just reminded those in attendance that they need to sign up if they want to speak when this finally gets to the public comment portion, likely no sooner than 8 pm. The city of Burien gets to make its presentation first. Kaufman explains that the board will conclude this hearing with a "preliminary recommendation" on the proposal, which then would be considered for final action when board members have their next formal meeting on April 16th.
7:13 PM: Looks like fewer than a dozen people plan to testify – there has just been a mass swearing-in of those who were signed up. Now Burien city manager Mike Martin is starting his presentation. He says this is a "historic" occasion and notes that at least three councilmembers are in the audience. He is also mentioning the hearing back in September that came to an abrupt end because the proposal had been withdrawn at that time.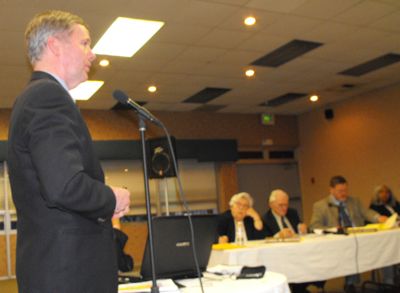 His presentation says the proposed annexation area includes: 1679 acres, 14,100 people, assessed value $1,159,030,100. He recaps the negotiations that resulted in the Memorandum of Understanding with parties including the county, Seattle, Burien, and fire districts, including pointing out that everyone ratified that agreement except the Seattle City Council. Now a timeline – if the annexation vote happens in August 18 and it's approved, the council could formalize the annexation in March 2010. Martin says the city is trying very hard to reach out to residents of the area. He says that while the county thinks that the area has $13 million in capital needs, Burien thinks there's more like $59 million and isn't sure how it'll handle that, but they'll do their best to try.
FOR THE REST OF OUR NOTES ON THE HEARING, WRITTEN AS IT HAPPENED, CLICK AHEAD:
7:25 PM: Karen Freeman from King County is now speaking in favor of the annexation. She says the county knows many would prefer that North Highline be annexed all as one, but says the economic reality dictates otherwise – it's too expensive for any one city to take on. Her speech was short and didn't draw any board questions. Chief Scott LaVielle of the North Highline Fire District has just spoken briefly in support of the proposal; his district was a party to the Memorandum of Understanding. Now the public testimony is beginning – much sooner than the agenda indicated. First is WCCDA board president Karen Veloria. "We fully support the need to incorporate urban areas like North Highline to adjacent cities," she says. But – "what concerns our organization is the lack of progress toward the annexation of the north area of North Highline … and the lack of alternatives being presented to the community regarding this area," so they are asking the board to make sure a "north North Highline annexation plan" is formulated. She says the legislation giving Seattle the sales-tax credit needed to help pay for annexations is critical (Martin said a few minutes ago that the legislation seems to still be alive "in some form" in Olympia, though it had seemed to have died earlier in the session.)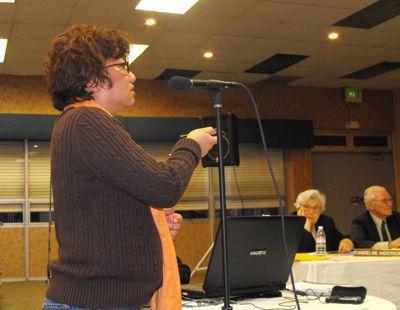 Veloria also notes that WCCDA helped lead the creation of a White Center Neighborhood Plan and says that should be taken into account, along with "community values." Asked a clarifying question, about whether her concerns mean she wants the board to reject the proposal, she explained that she simply meant, "We just don't want this area to be forgotten – it's like an island, what happens to us?" One board member says she should take that up with Burien city government.
7:35 PM: Next to testify, Ron Johnson from the North Highline Unincorporated Area Council, who stresses he is speaking not for the council but as a resident. He supports this annexation, he says – he lives in the area north of the annexation zone but says he would like to see his area become part of Burien and sees this as a step in that direction. "We would like to be a citizen of Burien very soon," he added, while also acknowledging the "economic reality" making that impossible for his neighborhood now: "We feel like we are part of Burien." The next witness, Mary Lou, also says Burien is where her allegiances lie, though she is a resident of the area that's not yet proposed for annexation. "I hope we go to Burien because Burien is my heart of hearts, and I definitely want to stay there." Next witness, Daryl Tapio, who lives in Seatac but owns property in the North Highline area. He is worried about the zoning and whether annexation would dramatically impact "future development of (his) property." Board members say that Burien leaders should be able to answer that during the "rebuttal" time coming up. Next, Adelle Lindgren of Boulevard Park, is also expressing support for being annexed by Burien, saying the services it provides — speaking also for the condo board she leads — are better than they would expect to get from Seattle.
7:41 PM: Doug Harrell of NHUAC is speaking, and he IS speaking on behalf of the council, he says. He notes the council supports having Burien annex the entire unincorporated area, though it realizes that's not what's on the table right now. "It's the feeling of the council that residents would be much better served by Burien than by Seattle … (but) the partial approach is probably the most reasonable approach," and he hopes to be back before the board soon to speak in favor of that annexation of the remaining area. He's followed by Ray Helms, who also is an NHUAC member. "I've been a Highline resident for 15 years and I plan on living in my house for the rest of my life … What I do want is to belong to a small city that I can call my own. King County has held me hostage for too long. I have graffiti on every corner and King County will not help. They do not have a graffiti plan. Burien does." He's listing other areas in which he feels that being part of Burien will be preferable to being in the unincorporated area. He also mentions that he is upset King County is selling "my park" – even with neglect marring that park right now. "Please vote yes to Burien's boundary proposal and let me take steps forward toward building a better neighborhood." He also asks, how will SB 5321 (information and status here) impact this annexation process? Next: Tom Murray – who's asking about the $10 million judgment upheld against the city of Burien, and asking for more disclosure about what would happen for residents being annexed into Burien and potentially having to shoulder part of that burden.
7:49 PM: Liz Giba of White Center says this seems finally like a chance for some residents to have a voice. She says WC residents are "people" and is sad that it seems like the county doesn't care where they go, "as long as (they) go away (into a city's boundaries)." She says she asked Seattle Mayor Nickels three years ago "to paint a picture of what White Center would look like if we became part of Seattle" and says the closest thing to an answer they got was the original proposal for a possible jail site nearby (the Myers Way site that since has been taken out of consideration). Now, David Feinberg says he is against the proposal: "While I am in favor of the annexation of the unincorporated area, I do not believe the process that's been used is fair. The playing field is not level (because of the sales-tax issue). He says the August election is unfair because there are typically lower turnouts in elections at that time of year. "As a businessman, I never believe the first offer put on the table is the best offer, and I don't believe we have yet seen the best offer … Our services at best will remain the same and our taxes will go up. I don't see this as an advantage." He says, Burien is essentially "a city that rents out its services" and he doesn't see how that will differ from being part of King County. Now, one more person who's signed up to testify, Carol Moore: "I'm glad we're having this meeting, but I just wish that more people were in attendance … not everybody was notified." She too is asking for the election to be held later, such as in November, so that more would turn out and more could be informed. She also says she thinks "the whole area should be included. … We were all wanting to be together, and to do this."
7:58 PM: A board staffer told Moore that the public notification consisted of notifying the local weekly newspaper, the Seattle Times, and putting up some posters – she says she put up nearly 100 last week. (Editor's note – The public-notification laws really need to be updated to take into account the world of online news, for formal notification. We found out about this by checking the city of Burien website.) Now, it's "rebuttal" time for Burien city manager Martin, and the board is recapping the questions asked/posed by some of those who offered comment. Martin says he doesn't have any clear update on the legislation that was mentioned – including the one that would have given Seattle access to the sales-tax credit. Re: the $10.7 million judgment (the so-called "Westmark case"), Martin says the case is being arbitrated in London on April 24th, but the city has insurance and "under-insurance," but they also expect "follow-on litigation" even once this is settled, and he agrees he would want any resident to understand "when they join the city, what they are getting into." Board member Charles Booth says, "So the impact on citizens will be minimal, since it's insured?" Martin says, "Well, but, that's in dispute." Re: the August primary, Martin says, since that'll be an all-mail ballot, and since "the city of Burien is moving heaven and earth to inform people," he thinks it'll work. "We're not trying to hoodwink people," he adds, saying it's on the website, there are voter registration forms every time city reps go out … "It's just not in our best interests to try to keep the vote down." He says the date also buys him extra time to hire staff and make plans before having the council finalize the annexation in March. "We're not trying to gerrymander or manipulate a vote here," he says. "We've been talking about this thing for years, this is everybody's chance to finally say what they want to do." Also, he corrects a previous speaker: "The fire department is NOT going away." Re: taxes – Property taxes are slightly lower, utility taxes are slightly higher. In the unincorp area, when annexed, he says, the average tax increase will be about $10/month. Re: the zoning concerns expressed by the property owner, he says they'll be looking at zoning laws once all this gets finalized and promises to talk to people in neighborhoods about "appropriate zoning" later. Board member Robert George then asks the big question: What about the future annexation of the rest of the area? Martin says, some council members believe this is only part of the job, and he expresses surprise that Seattle is not represented here. "I don't think anybody believes this area will remain unincorporated a whole lot longer." He says that while it would be a gamble to take on the entire area, he "feels good about this" (smaller annexation for starters). Board member Roger Loschen now presses the point further. "That is the basic issue here … we have worked on a lot of annexations … a lot of people still are feeling they don't have the transparency they want." He asked Martin to outline again how they got to this point. Among other things, he said, they needed at least 10,000 people to qualify for the sales-tax credit. He calls Seattle 'a little bit schizophrenic in their interest in this' – the mayor has one perspective, the council has another – and says Seattle seems to feel North Highline also has ties to it as well.

8:17 PM: Board member John Holman now addresses Martin, asking for more detail on the mediation process that resulted in the northern boundary being the way it is – particularly to the exclusion of Evergreen Athletic Field. Martin explained that the city of Seattle wanted the fire station excluded. He says that they would have taken in another 1,000 people or so because of dense development, if the line had gone a bit further north. "I kept going back to 'what do we feel we can be successful with?'" he said. Board member Michael Marchand asks about the parks in the area – 31 1/2 acres worth, says Martin – will Burien take them on? "We have not had those discussions with the county at this point," Martin said. Now testimony is over and the board has to decide what to do – either close the hearing and start deliberating, or continue the hearing. Board member Evangeline Anderson says it's rare to hear not just support for the annexation, but wishing it would "be bigger." Marchand says it's amazing that five parties had reached a memorandum of understanding, noting that he works as a mediator and knows how tough that must have been. George says, "It's gratifying that White Center is finally going to get some resolution to its situation" (at least partially). Loschen says, "You're all looking at me – I'm not prepared to make the motion my colleagues might feel I usually do; this is more complex than I was ready to deal with. I am convinced that we've heard all the testimony that we are going to hear that is germane; I am also convinced that the process, although as we all agree, it was unique in that we had two jurisdictions … declaring the same region in their Potential Annexation Areas … but then we had testimony before this board, not all relevant to the most restrictive points. Most telling: Why didn't we have a greater say in how this potential annexation area was divided up? The question that was before me in looking at (everything), I am fully convinced that the criteria that the statute gives us to hold up against this proposal has been satisfied. I am convinced that the city of Burien and the annexation proposers have done their homework, the documents appear to be in proper form, so I guess it's up to me again once more to move that the executive secretary be instructed to prepare … a document approving the notice of intent as submitted."
8:30 PM: A motion to approve the proposal is on the floor and seconded and is now being reviewed before a vote. (8:34) The vote: Motion passes unanimously. Again, this is not the final vote – the board will consider it on April 16 at its official meeting and reserves the right to change its mind. Once final action is taken, there's a 30-day appeal period, says the board chair. The board's executive secretary says the April 16th meeting is open to the public BUT there is no public testimony taken; it will be held at the Mercer Island Community Center. (We'll have more information on that shortly.) Meeting adjourned.
You can follow any responses to this entry through the RSS 2.0 feed. Both comments and pings are currently closed.