Looking ahead @ North Highline Unincorporated Area Council's last 2021 meeting
By Tracy Record
White Center Now editor
The North Highline Unincorporated Area Council's December meeting coincided with a sad anniversary – 15 years since the murder of King County Sheriff's Deputy Steve Cox, who was also NHUAC president at the time. NHUAC's Liz Giba dedicated the meeting to Deputy Cox: "Please keep him and his family in your thoughts."
Here's what else happened:
DISCUSSION WITH ELECTED OFFICIALS: Three people who have long represented North Highline in local and state government (though all three live in West Seattle) were the first guests. County Councilmember Joe McDermott was first of the guests to describe what he's working on, including economic help for White Center in the wake of the recent fires. The anti-displacement report` and Subarea Plan are coming to the council soon, too.
State Rep. Joe Fitzgibbon – who noted that he lives in Highland Park, close to WC – has been working on issues including fireworks. He's been trying to repeal the state law that requires a waiting period before a fireworks ban takes effect (though it's too late to make a difference for the unincorporated King County ban). The capital budget passed last session includes money for the relocation of the White Center Food Bank as well as for the operation of the Evergreen Aquatic Center.
State Rep. Eileen Cody continues her focus on health care and said a big issue right now is keeping people working in the health-care industry. "Health care always has a million things but that's the big one right now." Giba asked her about the training situation. Cody said there are now "simulation labs … like computerized dummies" but RN programs haven't used them as much as LPN, so she's working to expand training/education capacity.
Asked about the Growth Management Act and how it factors into White Center's future, Rep. Fitzgibbon explained that it stipulates various elements that need to go into future planning. But "the state doesn't approve or disapprove a local land-use plan" like the ones King County is working on, It was created as "more of a bottom-up system." He explained that the accountability comes from the ability for citizens to be able to file appeals.
A discussion ensued on how and when to comment on the plans. Do it now, urged McDermott.
Jacqueline Reid, who is now handling the Subarea Plan for the county, provided some information about how to access a "reader's guide" and other components.
Also discussed: Regional growth and densification – more of it has happened north of Roxbury than south, Fitzgibbon and Cody noted. Giba stressed concerns about an unequal number of low-income units planned in White Center rather than mixed-income "vibrant and diverse communities." NHUAC's Barbara Dobkin added that low-income units are "needed everywhere" but disproportionately built in White Center because it's "easy to build." Fitzgibbon said a law passed in the Legislature this past year might help with that, requiring communities to plan for housing "at all income levels." He added, "I think that's relevant to a concern we've heard from this community for a long time." Plans incorporating this will have to be adopted by 2024, he said.
In closing, McDermott reminded everyone that the comment period on the North Highline Subarea Plan continues until December 19th – he said that Chapter 4 in particular addresses housing and human services. Cody said North Highline "needs to figure out where it's going to annex to … I don't think it can last much longer" without that. Giba noted that Seattle has never put an annexation vote forward. Fitzgibbon simply said thanks to the community advocates in the (virtual) room.
Another big topic:
WHITE CENTER POND/BOG: It's being redesigned, according to a team from King County stormwater services.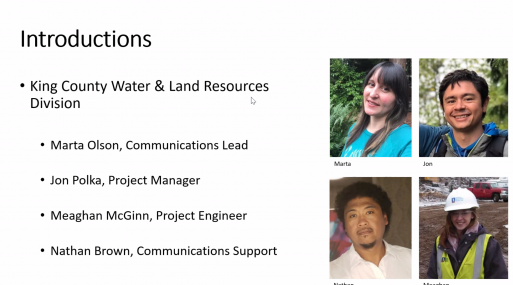 It's historically a wetland but is used as a stormwater facility.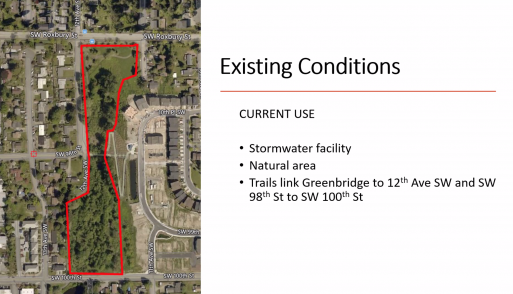 There's access for public use but it's not used a lot. It has a variety of issues they hope to address: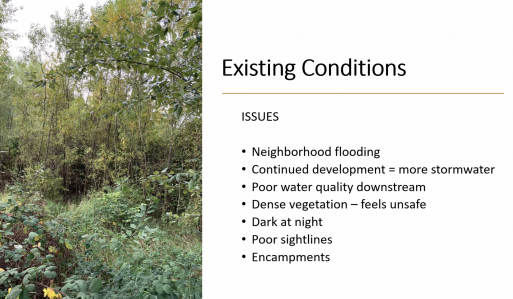 They hope to enlarge the ponds for more holding capacity, and to have them hold water year-round. The southernmost pond by Steve Cox Memorial Park was redesigned recently and is seen as successful. She said they'll try to preserve the large trees in and around the pond while they're digging. They hope to expand the "Cell 2" pond area to put water in a somewhat hidden area that is currently known for unsavory activities.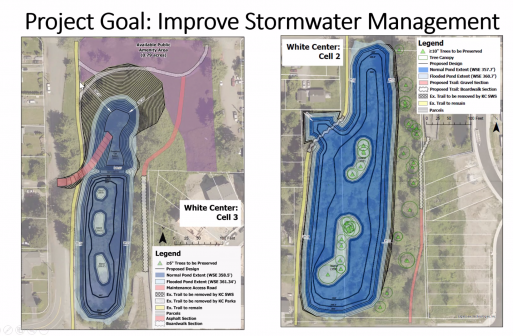 They're looking for feedback on redeveloping the ponds so they can increase recreation opportunities and greenspace access in the area. They hope to have a preliminary design by summer, maybe to show off at Jubilee Days, with construction not until the summer of 2024. So currently they want to hear ideas for the site.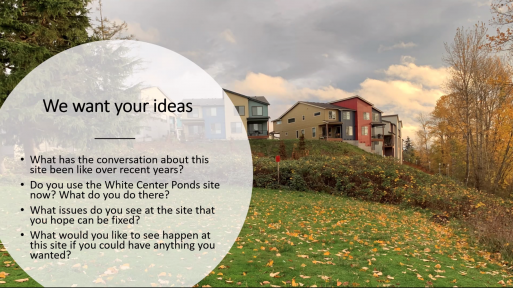 They are also looking for more people/organizations to talk to abut this. A Greenbridge resident spoke up and expressed interest in connecting his neighbors with the county team. Another local resident spoke about environmental concerns and the pond's importance to migratory birds.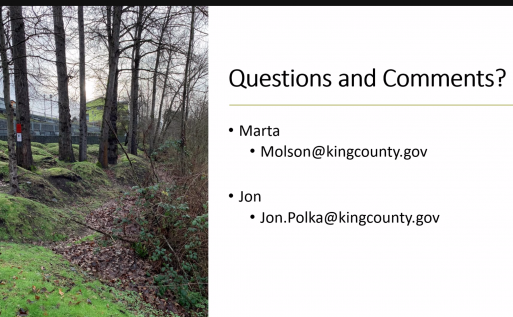 KING COUNTY SHERIFF'S OFFICE: Deputy Bill Kennamer had some "very good news – our burglary numbers are down significantly, because we finally caught our prolific burglar" – someone arrested during a burglary in Burien. We have since reported separately on the suspect, Nicholas Pierce, charged in four burglaries. Meantime, Deputy Kennamer said, Vehicle thefts/recoveries are "way up" – most of the recoveries are close to the Beverly Park house mentioned earlier. The owner has been working hard to evict the troublemakers but this may be about to break. The category of crime including car prowls is up. Aggravated assaults are down. "Simple assaults" are up. The 16th/107th parcel is under development as a combination apartment complex and storage facility, he added. Asked by Dobkin about emphasis patrols, Kennamer said those are happening "primarily in the downtown business corridor" but also stretching as far west as Roxbury Lanes.
Various topics were then discussed, including the status of vandalized business. Dobkin wondered about all the graffiti on the former Northmart on 16th. There's no county law requiring the cleanup of graffiti on private property, Kennamer noted. He also noted that the former Taradise Café is being remodeled to be what he was told will be "another restaurant." The LCB officer in attendance said he hasn't been notified of any new application for the building. The day after the meeting, one was filed, and we talked with the proprietor for this report.
A few quick mentions:
PARKS SAFETY: They're having listening sessions with community members regarding safety in parks, especially people who live near the newly acquired Glendale Forest.
WHITE CENTER KIWANIS: Mark your calendar for the January 20th baked potato and taco fundraiser for New Start High School.
NEXT MEETING: NHUAC is skipping January, so the next meeting will be Thursday, February 3rd.
You can follow any responses to this entry through the RSS 2.0 feed. Both comments and pings are currently closed.