WHITE CENTER SHELTER? Where the proposal stands, where your County Councilmember stands, and an 'open letter'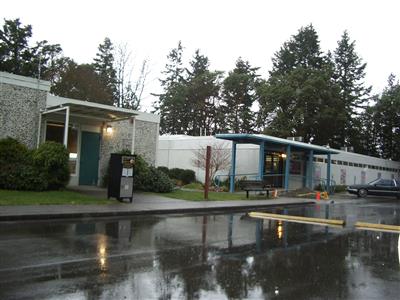 (King County photo)

ORIGINAL REPORT, 3:09 PM: Two inquiries we've had out since the end of last week, both related to the proposed 70-bed shelter in the former Public Health building at 10821 8th SW, have been answered today:
WHERE THE PROPOSAL STANDS: Tomorrow marks four weeks since the only public meeting (WCN coverage here) held on the idea so far. We reported earlier this week that online files show the county applied for a change-of-use permit for the building less than two weeks later, on September 28th. County Housing division spokesperson Sherry Hamilton confirmed that in a phone conversation today, responding to our Friday request for an update: "We are in the process now with the Department of Permitting and Environmental Review, to take a look at the building and see if it's viable … we don't know how long it will take. While we're doing that, we're also continuing to look at any other possibilities – we told the community we were open to suggestions, and we also asked Facilities to see if there are any (county-owned) buildings we missed."
Is a November 1st move-in still a possibility? Hamilton said she couldn't entirely rule it out but "there's no permit" and the permit process also is what will provide "information on what it would take" to use the building as a shelter.
So when will the promised second community meeting be scheduled? Hamilton replied that "it would be premature" to schedule one before they know what the building needs to be safe for occupancy, so there would be no point in "bringing the community back together now … we don't know what to tell them yet."
The county has a webpage about the proposal but as far as we can tell from daily checks, has not added anything new in more than three weeks.
COUNTY COUNCILMEMBER JOE McDERMOTT: We e-mailed our area's county councilmember Joe McDermott – who is also the chair of the council – to ask where he stands on the proposal, as we had not heard or seen him address it yet. He replied today via e-mail, saying he's "supportive" of it, with context regarding why. Here's his response in its entirety:
Eleven months ago, I stood with Executive Constantine and Mayor Murray as we declared a State of Emergency on Homelessness. Homelessness affects youth and adults across the region, and continues to be a growing problem. From 2014 to 2015, the number of unsheltered people increased by 21%. From 2015 to 2016, that figure rose to 4,505, an additional 19% increase. Likewise, the number of people who were homeless (including unsheltered, and people in transitional housing, shelters, and unhoused) increased to 10,688 in 2016. Clearly with over 10,000 people homeless in our community we need to do more.

I am committed to making meaningful progress on homelessness. An important way to achieve progress is to find more places where people can move out of the cold, and to a warm place where they can begin their journey to permanent housing.

I am also committed to ensuring that public resources are put to their best and optimal use. Standing empty, county owned buildings do the exact opposite. A temporary shelter that provides enhanced services – like connections to housing, employment, and health care – will make a difference and address need among people living in the community. Addressing homelessness not only benefits the people who are experiencing homelessness, it makes our communities stronger, healthier, and more connected.

White Center deserves to have resources that strengthen the community and meets the needs of residents – both those who are currently homeless, and those who are housed. I am supportive of efforts to bring services and shelter to people who are experiencing homelessness, who are already living across the county and in every community including White Center.

With the county's former Public Health Clinic building vacant in White Center, the Department of Community and Human Services (DCHS) proposes to use the building as a shelter for people experiencing homelessness.

As DCHS assesses community feedback after its meeting last month and has further conversation with the community, I am certainly hearing from members of the community about their reactions.
The concerns voiced to me include public notice, site location, and the population of people who may receive services. DCHS is actively working now to respond to these issues with a group of residents. I look forward to their successful work, as we must also acknowledge that we have problem today – and that every day that we delay is another that a person is needlessly living unsheltered.

I am particularly aware that this proposal gives some concern about children and their safety. This troubles me, as it seems to promote a stigma that people who are homeless are more likely to in some way harm children. As a gay man, I am a member of a community about whom similar stigmas exist and I find this concern troubling. And it appears to overlook that, sheltered or not, there are people who are homeless in White Center now. That being said, I know that DCHS is looking for ways to relieve some of the community's concerns. I encourage that work.

People experiencing homelessness come from across the county and in fact are currently living across the county. There are people who are homeless in White Center today. Surely people are more stable, healthier, better able to connect to employment and education, and able to secure housing more successfully when they have some form of shelter, rather than sleeping in our neighborhoods. Providing shelter provides some improved stability for all.

I am supportive of DCHS's continuing work to use the former Public Health Clinic in White Center as a shelter and look forward to the updated proposal that will address community concerns when it is presented. Let's see the proposal after further work and continue our dialogue. We all have a responsibility to address this emergency.
ADDED 7:51 PM: We have since received an "open letter" from Adrienne Quinn, who is director of the department responsible for the project:
You can follow any responses to this entry through the RSS 2.0 feed. Both comments and pings are currently closed.