What's next for our state's first 'traffic garden,' coming to White Center's Dick Thurnau Memorial Park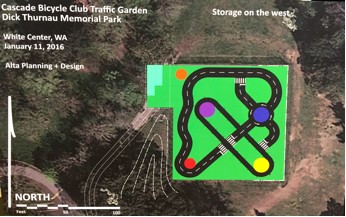 By Jordan Anderton
UW NewsLab / Special to White Center Now
White Center's Dick Thurnau Memorial Park is gaining a traffic garden this May.
The traffic garden will be a place for children and adults to learn traffic laws and the rules of the road on both foot and bike. White Center community members weighed in at a public meeting last Thursday, discussing community goals and the next steps for the project.
While traffic gardens are common in Northern European countries, this will be the first for Washington state and one of a few in the U.S. Traffic gardens were created with communal activity in mind and are essentially streetscapes painted to scale in parks to facilitate proper road practices.
Cascade Bicycle Club (CBC), the YES! Foundation of White Center, King County Parks, and Alta Planning + Design have worked alongside White Center community members to have the traffic garden represent current community goals brought up by residents.
There were four goals distinguished within the community: quality education, access to affordable housing, access to livable wages and strong, healthy families. The traffic garden will provide an outlet for creating and maintaining strong and healthy families.
"Community members can expect a facility designed for fun, learning, and inspiration. It's very important that this be a collaborative process that is for and of the community. Having the community voice and participation is the key to (our) success," said Ed Ewing of CBC at the meeting.
Ewing opened the meeting with a brief overview of the traffic garden design plans. The traffic garden will replace what were described as minimally used tennis courts at the park. Construction of the traffic garden is not expected to affect the existing disc-golf course at the park, but ways to improve that course were discussed in order to fit both intended uses. Bike-polo possibilities were mentioned as well.
Safety was a large concern voiced throughout the meeting. Those in charge of design promised that there would be proper fencing to distinguish between both the traffic garden and disc golf course.
Steve Durrant from Alta, leading the design of the traffic garden, turned to meeting-goers to sketch ideas for what artwork they would like to incorporate and write comments about challenges or concerns they anticipate.
Steve Durrant from @altaplanning is asking community members for 'big ideas' for #WCtrafficgarden pic.twitter.com/Uep1lUjpba

— Jordan Anderton (@jordanderton) January 15, 2016
"Instead of having (instruction done in a parking lot) with cones, we will have (the traffic garden) painted to scale, created just for the purpose of teaching kids and adults roadways. This will allow for easy usage for bikes, toy cars, and walking, so you get the whole experience." Durrant emphasized inclusiveness in this learning environment.
The project team stressed their desire for the traffic garden to represent the White Center community's multi-cultural diversity. "We came up with the idea of a global village feel, to include all members and cultures of our community, including our history of being on Duwamish land," said Tiffany Mowatt, who works with both YES! and White Center Community Development Association, was born and raised in White Center.
Butch Lovelace, program manager at King County Parks, anticipates a positive response from White Center community members: "We hope it is used by many people; we will be able to provide bikes to those that don't own one. We hope people who may not otherwise consider learning how to ride a bike do so. It can be transformative. Cascade is a great organization, so we hope people take advantage of their programming, but we also hope people just drop in and use the facility."
The traffic garden continues to seek community input via Cascade Bicycle Club, with more outreach – including youth engagement – to come.
You can follow any responses to this entry through the RSS 2.0 feed. Both comments and pings are currently closed.