Full Tilt Ice Cream adds folk/bluegrass series, joins Helpline benefit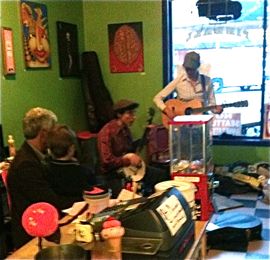 Couple notes about White Center-headquartered Full Tilt Ice Cream. Their live music series has added a monthly folk/bluegrass night (as noted here on the FT Facebook page) – last night was the first installment; we happened onto the performance by Squirrel Butter when we stopped in for ice cream after dinner at Pho My Loi further south on 16th SW. Watch the aforementioned FB page for news of future installments. Meantime, Full Tilt also has signed on for a big, tasty benefit coming up next door in West Seattle – the WS Helpline's Taste of West Seattle, co-sponsored by our partner site West Seattle Blog, now has 33 food/beverage participants signed on, including FT. It's happening May 20th at The Hall at Fauntleroy in south West Seattle – not too far from WC – and you can buy tickets online here.
Tags: Full Tilt Ice Cream
You can follow any responses to this entry through the RSS 2.0 feed. Both comments and pings are currently closed.