Video: South Park Bridge closure protest on Duwamish Alive! day
UPDATED SUNDAY: Our video is from just after protesters stretched into a "human chain" all the way across the South Park Bridge. But thanks to Dale Rowe for sending the photo we added Sunday: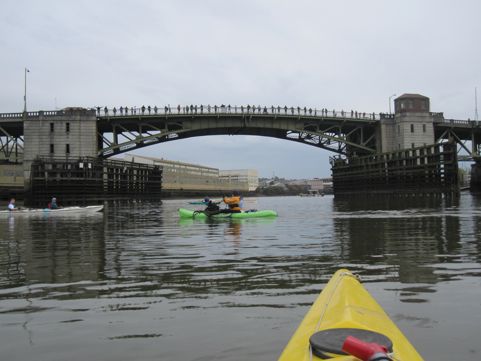 Meantime, the people opposed to the bridge's closure did get hoped-for media attention during their demonstration today – we saw a couple TV crews. And awareness is what it was all about, according to Bill Pease:
The county's plan for closing the bridge remains 7 pm June 30th, and there's no hard-and-fast plan for a replacement yet, though the money search continues. County Councilmember Jan Drago talked about it while speaking before participating in the waterborne work party that was part of the Duwamish Alive! Earth Day effort this morning – this next clip is by visual journalist Cliff DesPeaux, who covered Duwamish Alive! for our partner site West Seattle Blog:
As reported here earlier this week, the first meeting to review the county's draft closure plan – addressing everything from traffic to business impacts – is set for 6 pm April 27 at the IAM Hall in South Park.
Tags: south park bridge
You can follow any responses to this entry through the RSS 2.0 feed. Both comments and pings are currently closed.