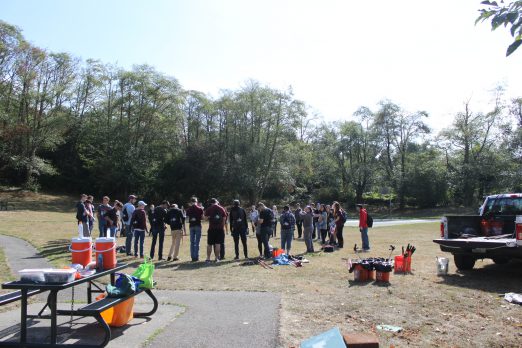 (Reader photo, added 12:35 pm)
From Seattle Pacific University:
Before classes begin at Seattle Pacific University, more than 700 students, faculty, and staff, will spend Saturday, September 23, cleaning up parks, removing invasive plants in local creeks, and working in homeless shelters as part of SPU's commitment to community engagement.

SPU students will be in White Center (24th Ave SW and SW 102nd Street) on Saturday, September 23, from 10:30 a.m. until 2:30 p.m. Their tasks will include removing weeds such as English ivy and Himalayan blackberry from an area in the park.

The annual event known as "CityQuest" is a way to introduce new students to the many community service organizations throughout the area. Students will work at more than 25 locations throughout Seattle.
ADDED SATURDAY NIGHT: We stopped by toward the end of the event and caught the volunteers in action: