READER REPORT: The case of the vanishing Scotch broom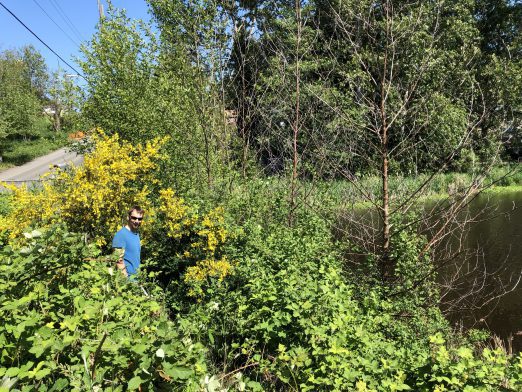 Thanks to Tom Erler for the photo and report!
In case you were wondering where all the Scotch broom around our end was slowly disappearing to, while also shedding some light on the massive effort and labors of love stewards & volunteers have engaged in this season.

Joe Neumann, former Noxious Weeds Employee & current King County volunteer & Westcrest Park Forest Steward, has almost single-handedly removed all public occurrences of Scotch (Scot's) broom, or Cystus scoparius, in Southern West Seattle/White Center over the past 2 years, with the last piece of the puzzle, White Center Pond, completed yesterday!

Here's where we began the work yesterday (North side of the pond) with a typically sized specimen of the ones we were managing. With specimens this size (2″ diameter), it is most effective to cut at the base during times of drought, which is usually in the summer months. Yesterday proved perfect with the soil drying out from recent record temps and allowing us to cut them down before their seed pods were able to mature & redistribute!

Here's the King County Integrated Pest Management resource for Scotch broom removal, in case readers are interested.
You can follow any responses to this entry through the RSS 2.0 feed. Both comments and pings are currently closed.