CRIME WATCH: Helicopter over White Center after mini-mart holdup; car-wash assault
Two Crime Watch notes today:
HELICOPTER OVER WHITE CENTER: The King County Sheriff's Office helicopter Guardian One has been circling for a while. We're trying to find out why and will update when we know.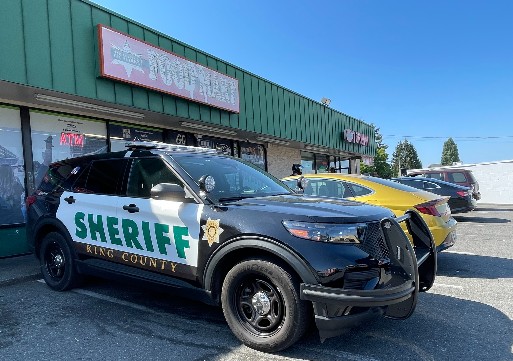 UPDATE: The mini-mart on the northwest corner of 16th/107th was robbed, we've confirmed at the scene. We're told the robber(s) got away with about $150. The store remains open, as does the teriyaki restaurant next door. The helicopter has since moved on.
Meantime, a reader report of a recent incident:
CAR-WASH ASSAULT: This is from the victim's mom:
I just wanted to make readers aware that there is risk of assault at the Car Palace car wash [10450 16th SW]. Two weeks ago, my 19-year old daughter was getting coins from the bill changer at the car wash. It was about 10 am.

She was groped from behind by a man who was about 5'5″ with dark hair. He was filming himself groping her with his camera. When she yelled, he took off running. She was so upset that she unwisely leapt into her car to follow him.

She followed him in her car to a nearby street where he hid under a bush. She then called her dad, who called the police. They saw the man enter a house nearby. They waited for 3 hours for the police, or in this case the sheriff, but no one came. There is currently just one car assigned to White Center.

Last night, the sheriff's deputy came to interview my daughter. They cannot interview the suspect until the single deputy gets a partner for safety reasons.

At the very least, we'd like to warn other women that Car Palace may not be safe when you are alone, even in broad daylight on a busy street.
Incident # C23017252. We're checking on the KCSO staffing situation, as they recently assigned a new "storefront deputy," according to briefings at the North Highline Unincorporated Area Council.
You can follow any responses to this entry through the RSS 2.0 feed. Both comments and pings are currently closed.