Power, greenery, and a retirement announcement @ North Highline Unincorporated Area Council's April 2023 meeting
By Tracy Record
White Center Now editor
Though not announced that way, this month's North Highline Unincorporated Area Council meeting had a suitable agenda for Earth Month – with clean energy and greenspaces as the first two major topics:
SPARK NORTHWEST: Amy Bettle spoke from this nonprofit focused on a "clean energy transition." They have a program called "Energize" that's coming to unincorporated urban areas including White Center and Skyway. Its goal is to provide "energy-efficient electric heating and cooling," via heat pumps, to supplement whatever recipients are using now. It will cover 100 percent of the costs for low-income households chosen to participate and 80 percent of the costs for moderate-income participants. They're hoping to streamline the process that would lead to heat-pump installation. It starts with workshop attendance and then moves to getting a bid. The program also will support contractors who are women and/or people of color. Right now they have a "request for qualifications" open for HVAC contractors, and they're recruiting community members to help them make the choices via participation in a selection committee this month. In May they'll start sharing information about workshops that start in June, for prospective customers. Once the systems are in place, Bettle said, customers' energy bills could be up to 60 percent lower. Committee members, meantime, will get a $450 stipend for the time they take to participate. What if it's a renter household – would the income limits apply to the renter or the homeowner? The former, Bettle said, though landlords of course would have to be involved in approving the installation. Also of note, this isn't limited to single-family housing – installation could be made in a multi-family unit too. Find out more about Energize here.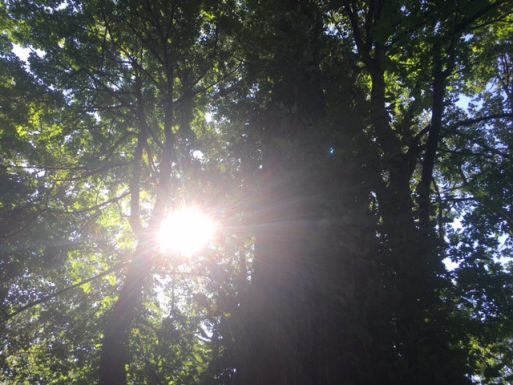 (WCN photo from Glendale Forest, 2020)
LAND CONSERVATION INITIATIVE: David Kimmett from this program was in attendance with an update. In North Highline, the focus is on "urban greenspace." They want to create more of it "in a community like North Highline," Kimmett said, because the benefits are manyfold – including physical and mental health. Three acquisitions completed in recent years were Glendale Forest (five acres with a stream, and they're working on adding a trail, which will require a bridge over the stream), a "small property at White Center Heights," and "a property next to Dick Thurnau Park." He recapped each of those three. He talked about restoration work, such as extensive ivy removal in Glendale Forest. At the Dick Thurnau Park-adjacent site, acquired ,ecently, the intent is to support the upcoming HUB project with more of a greenspace buffer. It has a house (currently boarded up) that'll be torn down, and will extend the park out to 108th, Kimmett said. About the WC Heights acquisition, he said, the site already was bordering on county land on three sides, and had a house that's been removed, with restoration soon to begin. He then talked about hoped-for future acquisitions, like some property along Duwamish River-feeding Hamm Creek, It's a steep ravine that's not developable but can be restored into a "healthy urban forest," Kimmett believes. Not suitable for trails, but a step toward their "conservation goals." He's also interested in some land that's currently church-owned in an unincorporated area of Arbor Heights, near Seola Pond (which already is county-owned). Kimmett hopes the kind of community-involved restoration that's been done at Seola Pond can expand onto these potential acquisition sites. He's now "raising funds to acquire these" – a process that can "only be done onca a year" – so he's seeking support. That fundraising is done through the Land Conservation Initiative – which has a committee to review such proposals – he clarified in response to a question. How can community members show support? he then was asked. Kimmett said he needs "community support from organizations," writing letters of support. NHUAC board members and attendees subsequently voted unanimously to write a letter of support. An attendee from a group that does a lot of restoration work further south in the county said she'll see about having her group write a letter too, and a White Center Kiwanis rep said the same. Asked about the time frame, Kimmett said, "ASAP" – by the end of the month, at the latest. Kimmett's appearance concluded with some brainstorming about possible future acquisition sites.
CRIME/LAW ENFORCEMENT: Deputy Bill Kennamer is retiring at month's end after 25 years. Three deputies applying for his White Center community position were in attendance and Kennamer called them (and other applicants) "really good cops." The interviews are next Monday, he said. Meantime, he said crime took a big drop – major crimes and other kinds – in the past month. "We had a good month last month," Kennamer summarized. Some notable incidents – gunfire in front of Roxy's, an attempted child kidnapping outside Seola Gardens, an accidental self-inflicted gunshot wound, armed robbery at the Boulevard Park 7-11, a strong-arm street robbery. "Auto thefts are through the roof, auto recoveries are through the roof," he added. Kennamer also was asked about the bust – which he led – that resulted in a big haul of stolen guns; he said the Top Hat building where it happened has some evictions in the works. He also mentioned a few other things: On April 22nd, KCSO will participate in a "Coffee with the Community" event at the White Center Starbucks. The burned-out building on the west side of 16th is getting extensive redevelopment, he added, and the former Bizzarro site will become a coffee shop and pizza parlor. NHUAC invited Deputy Kennamer to come by post-retirement and say hi any time.
NEW BOARD MEMBER: Amelia says she's excited "to be more involved in the community" by joining the NHUAC board. She was added by a unanimous vote.
COMMUNITY DINNER: White Center Kiwanis is presenting a steak dinner 5-7 pm April 21st at the White Center Eagles' HQ. Vegetarian option too (portabella mushroom). They're fundraising for their work with youth.
NEXT MEETING: NHUAC usually meets on first Thursdays, 7 pm, online, so the next meeting should be Thursday, May 4th. (They're still hoping to find someplace to resume in-person meetings.)
You can follow any responses to this entry through the RSS 2.0 feed. Both comments and pings are currently closed.