FOLLOWUP: Opening date set for new home of Tim's Tavern in White Center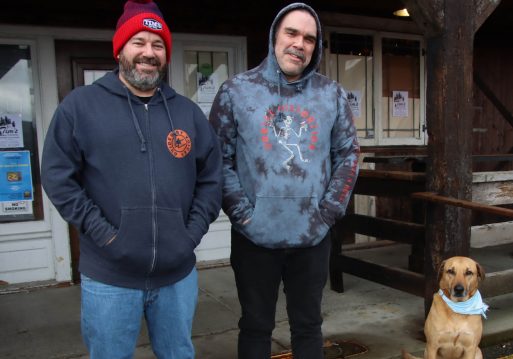 (WCN photo: Matt O'Toole, Mason Reed, and Elvis)
By Tracy Record
White Center Now editor
The transformation of White Center's ex-Drunky Two Shoes into the new Tim's Tavern is about halfway complete.
That's the assessment of co-owners Matt O'Toole and Mason Reed, who sat down to talk with us this week, one month after they announced they were taking over 9655 16th SW.
They plan to open March 31st. But first, the rest of the transformation. If you ever went to Drunky's, you might remember the taxidermy. All gone (though the salmon over the front door might stay). Since Tim's is all about music – "music is our vibe" – they plan to fill the venue with history and memorabilia, new and old. And they'll keep adding to it.
What has them particularly giddy is the extra space. The original Tim's Tavern, which closed a year and a half ago in Greenwood, was only 1,000 square feet, they ecplain. Now they have so much room, they plan two music stages – out back with the Airstream bar (which stays), inside in a space dubbed the "Jesus room" – its new decor will be a "shrine to Seattle music history," and it'll be for acoustic acts, open mics, weekly trivia (Wednesday nights).
Inside, they'll feature the sign that previously hung outside their Greenwood location; all new signage is planned outside, arriving soon, so that part of the transformation is close too.
So why White Center? They explain that it took almost two years to find a site that worked – big enough, not close enough to residences to "make the neighbors angry" – but in the end, it turned out to be a place they wanted to model Tim's Tavern after anyway. Coming out of COVID, they explain, they thought outdoor space would be important, and so they kept telling their real-estate agent to look for someplace "like Drunky's." Mason marvels, "This was our model – then it became available!" (It closed rather quietly at the end of January; the Tim's team says the prior proprietors are focusing on an establishment in Spokane.) Matt adds, "We're going to put a lot of love in this place."
They'll have music seven nights a week, counting open mics on Mondays, with hours expected to be 2 to midnight for starters, then hoping to shift that earlier for lunch by June – White Center has limited lunch options, they note. Once lunch is launched, they'll go for weekend brunch, "with some entertainment." And yes, Tim's will be all-ages, except for some 21+ shows outside. So what kind of food will they serve? Mason is in charge of that, with a resumé including gigs as a "backstage chef" for music stars. "Fun bar food, Northwest pub" is the style, he suggests, later adding that vegan and gluten-free options will be available too. They'll even have a separate gluten-free fryer. Beverages? "Full wine list, full beer list, some slushies," and a non-alcoholic cocktail lineup too. They promise it'll all be "high quality (with) exceptional service" – Mason's been in the restaurant business for 30 years. (Both co-owners are musicians, by the way.)
We tried to coax them into revealing what's in store for the opening weekend's music lineup, but they're not ready to make the announcements. They do say they plan to book local favorites, mentioning that Billy Joe and the Dusty 45s, for one, will be there every month or so. And their longstanding reputation was as an "incubator," which means rising stars are likely to be in the mix. So watch for news on the music slate later this month. Till then, as they continue "transforming" their new space, they are impressed by the "great vibe" in White Center, and how welcoming they say everyone's been so far. They observe that people in White Center are "very proud" of their community, and they hope to be part of the reason for that pride, soon.
You can follow any responses to this entry through the RSS 2.0 feed. Both comments and pings are currently closed.