From nonviolence to neighborhood tidiness, here's what happened at North Highline Unincorporated Area Council's March 2023 meeting
By Tracy Record
White Center Now editor
As always, the North Highline Unincorporated Area Council tackled a variety of topics during its monthly meeting, held online earlier tonight. And by meeting's end, NHUAC's board had grown by one. Here's how it all unfolded:
ALTERNATIVES TO VIOLENCE PROJECT: First guest was Sandy Hunt from the Highline Education Association to talk about the Alternatives to Violence Project, "bringing nonviolent solutions to resolving conflicts" in the community. This will include some afterschool programming. Hunt said she first heard about the program six years ago and now they've been offering training to teachers since Decembers. "Schools are just one piece of the ecosystem," so they want to spread this to the greater community. She explained the project:
She said it's been effective in building relationships and conferring skills. It's also a youth development project, and the Cultures United soccer team is involved too. It's taught in a weekend-long workshop, Friday nights plus all day Saturdays and Sundays:
Facilitators can choose from 400 activities to customize for each group. "It's really about taking people's stories, stories of conflict, and transforming those stories into one in which instead of expecting the worst, people expect the best," she said. They have workshops in the area later this month: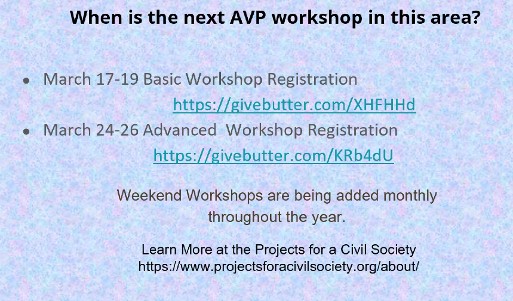 Go here to find out more/register.
KING COUNTY PERMITTING/CODE ENFORCEMENT: Jim Chan, permitting division director, introduced Tom Campbell, the new code-enforcement manager, who came from a similar job in Bellevue about two months ago; he spent 15 years there after 10 years in the Seattle Fire Marshal's office. NHUAC had asked for an update on certain properties; they obliged, with updates on 10 properties. Campbell began with a vacant property in the 9600 block of 15th SW; he said that's basically "been a parking lot .. for several years." It's been inspected twice, with no further action; he said the county has to prioritize, depending on what danger a site poses. This was considered the lowest priority, Priority 3, so the case was closed. (He explained later that they have to prioritize because of limited funding.) NHUAC's Barbara Dobkin took exception with the county rep's description as a "parking lot"; she said it's "more like an impound lot." Campbell said that also qualifies as "vehicle storage." Dobkin said, "It's baffling to me that we have what looks like an impound lot in the heart of our business district … is that use allowed for it?" Campbell said he would check; "it wasn't viewed as an unpermittied use." Next, a house (we didn't catch the address) with numerous vehicles parked as well as overgrowth. It was considered for a referral to abatement but then the number of vehicles on the property went down to two and action was put on hold; last year there was a fireworks complaint, and a letter was sent. Neighbors of the property said there's only one inoperable vehicle there now but it's stuffed with trash, which is also piling up around the property, attracting rodents and other wildlife. Discussion then veered into other concerns about the house, including whether it's being undervalued/undertaxed. It was suggested they invite a guest from the King County Assessor's Office to discuss such issues.
Next, the 21st SW property where a man was shot and killed by Seattle Police serving a warrant in August 2021. Dobkin said its renters "left shortly after that" but the property was in bad shape and people kept breaking in. Its owner subsequently cleaned it up, Dobkin said – and dumped the detritus in the park across the street. The house is still not secure, she said. Campbell explained why the homeowner couldn't be cited if there was no direct evidence that she had done the dumping.
Then a property in the 10400 block of 22nd SW – they're in the process of abating the property, Campbell said. They've been trying for years to work with this family, he said, and now they're getting estimates on cleanup costs, to address the property and right of way, including vehicles in which people are living, They're also working with Animal Services. "This time we'll be cleaning up the entire property and assessing the condition of the house," Campbell said. The house might have to be declared uninhabitable. But even if it is, "we can't keep them from living in their vehicles," he said, but they're looking at a "social service intervention." He added, "Any hoarding situation is difficult to deal with" – including for those who hoard. Could the house be ordered torn down? "That's not an action the county takes lightly," especially in these days with so many people houseless, Campbell said.
10600 block 22nd SW – this too is in the abatement-planning process, and the operation might happen at the same time as the previously mentioned one – "at least the exterior cleanups." One site on Myers Way did have a few past cases involving an accessory structure; concerns about a huge stack of pallets were raised. Four properties on the list – including one owned by the county – had no code-enforcement cases on record, Campbell said, so he had nothing to report; one property had a recurrence of past problems.
Campbell explained that code enforcement is complaint-based, so if someone hasn't complained about something/someplace, it's not likely to be on their radar. "We can't be out at every property 24/7 … real-time reporting by the people living in the neighborhoods (matters)."
On another matter, NHUAC's Liz Giba mentioned the problematic hookah lounge had moved out. But she's wondering about the new tenant and its use of a basement. Chan said, "We've reached out to them" about what's needed and promised to "run by and take a look." Dobkin also wondered about noise issues from music planned nightly at the future Tim's Tavern (ex-Drunky Two Shoes). Chan said there's nuisance noise, which is up to the King County Sheriff's Office, not the permitting division. The Liquor and Cannabis Board rep in attendance said they've applied for a liquor license with entertainment, and that the local authority – King County – had been notified, with 20 days to respond if there are concerns.
NEW BOARD MEMBER: Amelia C, a Top Hat resident, answered the recent call for new board members. She works at Moonshot Coffee in White Center. "I love it here and I want to see this place become the vibrant place it can be." She was added to the board by acclamation. They're still open to new members, added Dobkin. "It's a great way to be involved in the community" – the organization's been active since 1996.
COMMUNITY ANNOUNCEMENTS: Bill Tracy from White Center Kiwanis said they're having a steak/portabella mushroom dinner on Friday, April 21st, 5 pm at the White Center Eagles' aerie, dinner and music – 206-248-2441 to reserve tickets, $35 for one, $60 for two.
NHUAC meets first Thursday most months, 7 pm, online – check nhuac.org between meetings for updates.
You can follow any responses to this entry through the RSS 2.0 feed. Both comments and pings are currently closed.