UPDATE: Man shot, killed in reported gunfire exchange with Seattle Police serving warrant in White Center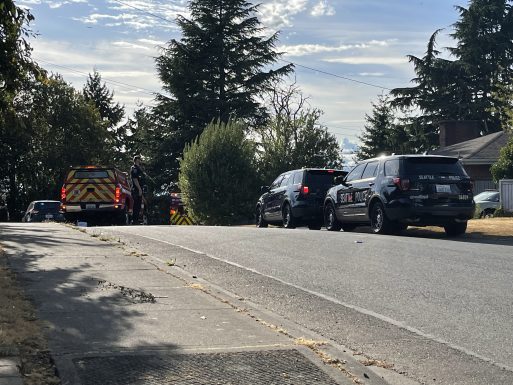 6 PM: Seattle Police SWAT was serving an arrest warrant in White Center near 20th and 100th when shots were fired. We don't know yet who fired but the person who was shot was described as a suspect. We are at the scene and will update.
6:06 PM: If you're in the area, police have set off a 'flashbang' before entering the house to see if anyone else is inside. The shooting happened outside.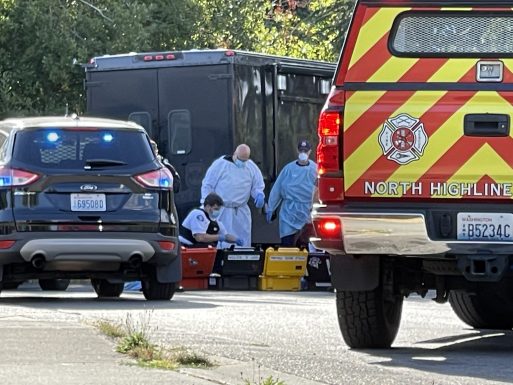 6:17 PM: The person who was shot has been taken to the hospital. (Correction: Police later said he was declared dead at the scene.) Officers are now searching the residence. The area's been taped off, including SW 100th.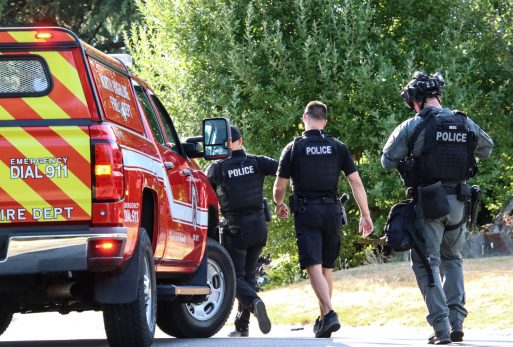 6:42 PM: SPD Chief Adrian Diaz is here. Officers are still trying to ensure the house is clear.
6:47 PM: They've just set off another flashbang and are using other audible tactics in case there's anyone inside
6:56 PM: The helicopter is TV.
7:24 PM: We and other media are awaiting a briefing from an SPD public-information officer.
7:55 PM: SPD says the person shot by officers has died. They confirm they had gone to the house to arrest a suspect in a Seattle murder case from earlier this year – but they are not yet confirming that the dead man is the person for whom they had a warrant. We recorded the briefing on video and will add soon. (Added: Here's the clip.)
The distinction that the warrant was for a Seattle case is important because it rules out the recent unsolved White Center/North Highline murders – those were outside the city limits.
MIDNIGHT: SPD Blotter says the man who was shot was 22 years old and was the suspect officers had gone there to arrest.
You can follow any responses to this entry through the RSS 2.0 feed. Both comments and pings are currently closed.