UPDATE: Crash at Ambaum/116th kills 2
5:31 PM: Avoid Ambaum and 116th – King County Sheriff's Office detectives are there investigating a two-car collision and they're likely to be there a while. More when we get it.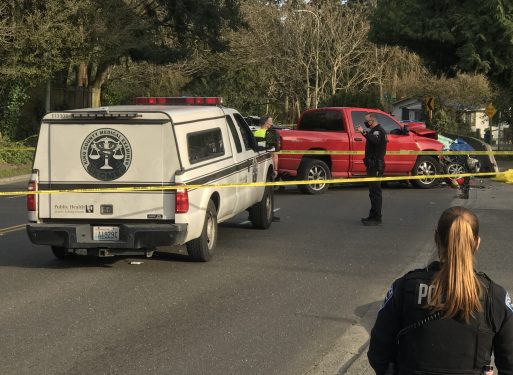 6:38 PM: Just back from the scene, which is actually on Ambaum just south of 116th. In our photo, a King County Medical Examiner vehicle is at left. They are usually called in to investigate fatalities; KCSO is not confirming anything yet. Deputies at the scene told us the road should reopen soon; they were originally dispatched around 3:30 pm.
WEDNESDAY UPDATE: We followed up with KCSO spokesperson Sgt. Tim Meyer, who says, "Two lives were lost in this three-vehicle collision that began when the driver/suspect of a northbound (on Ambaum) sedan struck a hatchback, which caused it to rotate in front of a southbound pickup. It was the occupants of (the hatchback) who passed when they were stuck by the pickup. The suspect driver (sedan), who was believed to be impaired, was booked last night for two counts of vehicular homicide AND felony hit & run. The King County Sheriff's Office MARR unit continues their investigation."
You can follow any responses to this entry through the RSS 2.0 feed. Both comments and pings are currently closed.