Election in the spotlight as public-safety leaders visit North Highline Unincorporated Area Council's first online meeting
By Tracy Record
White Center Now editor
The North Highline Unincorporated Area Council has finally arrived in the world of online meetings, and the first one, this past Thursday night, was as info-packed as their in-person meetings have historically been.
Though this one spotlighted public safety, with leaders from the North Highline Fire District and King County Sheriff's Office, the real theme was the November 3rd election, with both departments having a lot at stake in ballot measures on which you will be voting.
NORTH HIGHLINE FIRE DISTRICT BENEFIT CHARGE: Assistant chief Ray Pettigrew opened by noting he has been with affiliated Fire District 2 for 35 years, and explained how the two districts consolidated at the start of last year after many years of cooperation.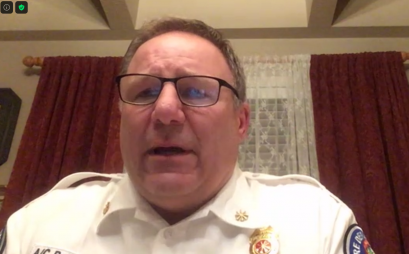 He talked about the "benefit charge" changing the way NHFD is funded, starting six years ago after its 2014 passage, to take care of the problem with tax-exempt properties not contributing to the district funding. And he listed everything it's enabled, as voters get ready to decide whether to renew it for 10 years. The charge "spread the cost out, made it more equitable," Pettigrew explained, and led to a small decrease in what homeowners pay. The charge enabled the consolidation, and also led to a rating agency upgrading the department's rating, which is good news for property owners' insurance rates – the rating is now a 3 (1 is the best). The department also was able to buy two new fire engines that are based at Station 18. "We're a very busy fire department," with 11,000+ calls last year, he said, and the engines that were replaced had a lot of miles on them.
The stable funding also has enabled them to station an aid car at Station 18 most days – "it increases our ability to answer emergency calls by almost 50 percent." They've upgraded air packs, and added a public educator, too. Also: A local firefighter is helping with the COVID-19 testing area that has been opened in Tukwila; Pettigrew said they were looking for other sites, maybe even White Center, but couldn't find an available property. King County is reimbursing them for the firefighter's work. Last but not least, they're working on an "FD CARES" response unit – "usually an SUV" with a firefighter and nurse or social worker – to answer certain kinds of "low-acuity calls and works with the person to address their needs in a more appropriate manner." King County Public Health has provided some funding for this. They're hoping to have the unit up and running early next year. "We think we've been very good stewards of your tax dollars," summarized Pettigrew, pitching for the renewal.
What if it's not approved? asked NHUAC's Barbara Dobkin. Reply: The property tax rate would go back up, and the FD would have to re-evaluate what it's doing. What's the rate and is it different from the last one? It's been fairly consistent and is expected to continue that way – "approximately $1.50 per thousand" (dollars of property valuation).
KING COUNTY SHERIFF: KCSO sent several reps to the meeting, starting with the sheriff herself, Mitzi Johanknecht.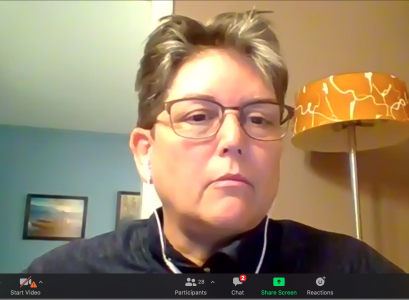 She talked about the every-decade county-charter-amending process. Two amendments on the November 3rd ballot would affect KCSO: Amendment #5, which would change the sheriff back to an appointed, rather than elected, position, more than 20 years after the previous change. She's the fifth elected sheriff, in her first term, which started in early 2018. If Amendment #5 passes, the County Executive would appoint the sheriff, with County Council approval. Then the council put Amendment #6 on the ballot – "having an elected sheriff, but with conditions … that the King County Council would create an ordinance … that determines the roles and responsibilities of the sheriff." Currently, state laws regulates sheriffs' roles.
Dobkin mentioned hearing County Executive Dow Constantine talk about the measure on a podcast and say that since people who aren't in the sheriff's jurisdiction get to vote for them, changing the law made more sense. Johanknecht noted that other countywide officials are voted on by all county voters too. But, she noted, KCSO does have countywide responsibilities – Metro and Sound Transit policing, among other things. "I also think it's important that if you're voting for a sheriff, the sheriff should have a standalone opportunity to represent you."
If it went to an appointed position, might that lead to cuts/changes? Johanknecht said the COVID-19 crunch has already required some cuts, so she cut some vacant positions, "the least amount of FTEs possible" so it wouldn't harm 911 response and crime-solving. NHUAC's Liz Giba said she'd heard the marijuana-tax money had been pulled from KCSO – was that true? The sheriff said that's a complicated issue but it's not resulting in any cuts/changes. She also noted that 58 percent of the KCSO budget is revenue-backed – maybe the only county agency that brings in this much money helping cover its budget.
What sort of anti-racism reforms has KCSO been working on? The sheriff said reform is one of the major things she ran to accomplish. She says her deputies now have "less-lethal tools" and that they've developed new policies for the critical-incident review board, plus they've been training in de-escalation and crisis intervention – 48 hours of the latter, "years ahead of what the state is going to demand." They've also gone through implicit-bias training, and are wrapping up investigations of social-media posts that drew attention and concern. She said the issue has made her job "the most important thing I'll ever do in my life."
The budget includes full funding for the KCSO storefront locations, including White Center, she said, in response to a question.
She was followed by Manny Apostol, the new community-engagement specialist for KCSO, a longtime department employee. Listening to communities is his task – here are the slides outlining what he'll do: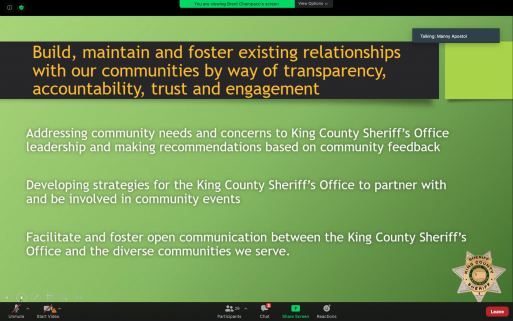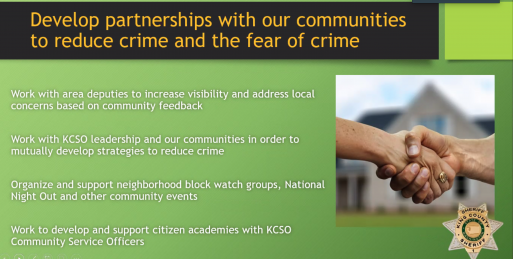 He was asked how he's working on rebuilding trust with Southeast Asian communities in the wake of the Tommy Le killing. He said he's been reaching out to groups.
STOREFRONT DEPUTY BILL KENNAMER: He talked about a problem house in the 1800 block of SW 98th that's finally been cleared out – the eviction moratorium pushed the handling of the situation back several months. They were evicted "due to the criminal activity associated with the house," he said. "That was the worst house in White Center right now," he said. Among other things, one of the people associated with the house "was a murder suspect with a $2 million warrant." Kennamer said one neighbor told him he's had the first night in a long time that he wasn't awakened by some trouble at that house. But there are others, it was noted.
Other wide-ranging discussion included the murals on many businesses being a graffiti-vandalism deterrent.
Dobkin also mentioned traffic issues diverting off Roxbury, which in turn is a lot busier because of the West Seattle Bridge closure. Kennamer agreed, "The traffic is absolutely ridiculous" and "going to be frustrating for a very long time." Dobkin said it's a safety issue with people "flying through our streets" on streets without sidewalks. Kennamer said he'd reach out to Roads – maybe a stop sign on 106th could help, "so they can't pick up so much speed." He also advised "don't walk with your back to traffic."
What about mail theft? Kennamer was asked. "If you see it, call us quick, because they're gone quick." Locking mailboxes can help but some people even use saws to cut them down.
MAJOR JEFF FLOHR: He's now the KCSO Southwest Precinct commander. The area always has at least two deputies on duty, he said. He started out talking about the "use of force" dashboard, which he said would show "how rarely we use force."
His main topic: White Center is one of the areas where KCSO is about to run a pilot camera program – in-car and body-worn. 10 deputies will be using the cameras for 90 days, working in different areas.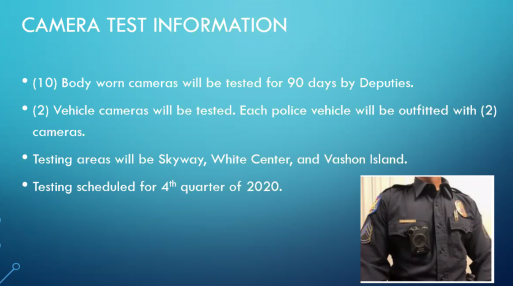 He went over the functions and policies they'll be testing.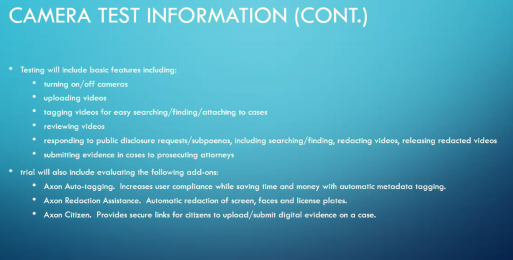 At the end, they'll evaluate and document what they learned, "identify the features we want if funding is provided for full implementation" – right now, it's NOT budgeted.
Flohr also said they're "ready to go" with the LEAD program in White Center/North Highline, just waiting for some documentation with a service provider to be finalized. Asked to refresh memories, he gave an example – say deputies respond to a mentally ill shoplifter, they deal with a team of people trying to get that person help, "trying to keep people out of jail and get them the services they need … it's exactly what the communities have been asking for, they just don't know that we've been doing it."
CHIEF JESSE ANDERSON: He talked about "8 can't wait" policy changes: No chokeholds unless it's a force-type situation "last resort," de-escalation, requiring warning before shooting, duty to intervene, no shooting at moving vehicles (unless deputies are trapped), among other things.
Regarding policing reform, he acknowledged that many of their calls are more "quality of life issues" than crimes, but he also said staffing is at the lowest level it could be while still allowing them to respond to calls.
NEXT MEETING: NHUAC plans to continue via Zoom for the foreseeable future – the meetings are usually first Thursdays at 7 pm – watch nhuac.org for updates. Next time, the North Highline Sub-Area Plan will be a spotlighted topic.
You can follow any responses to this entry through the RSS 2.0 feed. Both comments and pings are currently closed.