More scooters on the way to White Center and vicinity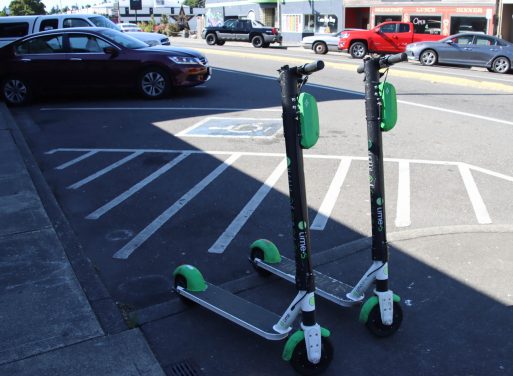 (WCN photo, last month)
Three weeks into the North Highline e-scooter pilot, an expansion has just been announced by King County:
Momentum to bring shared electric scooters across King County is building, as a second major company has announced their e-scooters will be hitting the streets of North Highline, including White Center, on Labor Day.

Spin, a San Francisco-based industry leader, says they will roll out some of their fleet to the North Highline area just south of Seattle this Monday. Spin will join Lime as the two companies participating in a one-year pilot program created through legislation led by King County Councilmember Joe McDermott.

"This program is part of an effort to give residents a micro-mobility option that's safe and socially distant, as well as a first-mile/last-mile option to connect with transit," said McDermott. "Spin joining this effort will play a major role in further connecting the White Center community."

Spin will deploy up to 50 scooters to popular transit stops across White Center on Monday (click here for a map of the service area), with pricing set at $1 to unlock and $0.25 a minute to ride. Users with limited incomes may be able to access scooters at discounted rates by applying for the Spin Access program. The program also grants access to those without smartphones, mobile location services, or credit cards.

The scooters are available from 8 am to 8 pm daily and riders can find the nearest available scooter on the Spin app and then activate it with the QR code on the scooter's handlebar with the app. Riders are required to wear a helmet and should wear a mask anytime they might come within six feet of others. The scooters will be sanitized and maintained by Spin employees.

"We're thrilled to partner with King County as a scooter provider for the next year. Spin is committed to working with county staff and local community stakeholders to ensure that Spin scooters increase transportation options, while reducing congestion and pollution," said Kyle Rowe, Global Head of Government Partnerships at Spin.

The company says factors including the closure of the West Seattle Bridge have impacted the commutes of many White Center residents, making public transit an important option for some. As an incentive to commuters, Spin is offering users who park near specific bus stops when they end their ride $1 off their next ride – check Spin's app for these select locations.

The White Center scooter pilot program runs through August 2021 and could be extended or made permanent at that time. Visit kingcounty.gov/scooters for more information about the program.
You can follow any responses to this entry through the RSS 2.0 feed. Both comments and pings are currently closed.