FOLLOWUP: Suspect charged in arson at ex-funeral home in White Center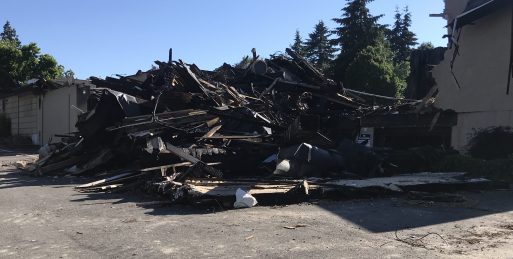 By Tracy Record
White Center Now editor
This afternoon, the former Yarington's Funeral Home in White Center is just a burned-out shell and piles of charred debris. And a 35-year-old man is in jail, charged with setting the 2-alarm fire in the early hours of July 8th. Matthew Robert-David Hicks is charged with first-degree arson and second-degree burglary, his bail set at $200,000.
The King County Sheriff's Office announced Hicks' arrest today, though he has been in jail since Thursday night, two days after we broke the news that the fire was ruled arson. The charging documents say Hicks has "a lengthy history of crime"; King County Jail records show this is his sixth booking in less than a year (his record, however, appears to be mostly misdemeanors). We recognized his name because he was arrested in connection with a big White Center fire early last year, but released without charges.
The probable-cause documentation from the new charge against Hicks says he has been on investigators' radar since the morning of this fire. An investigator who recognized him "from other fire events in the area" saw him kitty-corner from the fire scene that morning, standing near the gas station/mini-mart. The investigator says the next day, a private security guard watching the still-smoldering site told him that a woman had come by early that morning and said a man named "Matt" had been bragging about starting the fire. The investigator subsequently learned the same woman had told the same thing to firefighters at the scene the night after the fire. Soon thereafter, a sheriff's deputy contacted the investigator, saying he was with Hicks and should come talk to him.
Though Hicks denied starting the fire, he talked with the investigator about having been in the building befooe the fire. Once the investigator was able to get onto the site, he determined those were details that only would have been known by someone who had been there. The investigator also found two places where the fire had started, neither with any potentially accidental sources of ignition.
The probable-cause narrative goes on to say that he tracked down the women who had said "Matt" was bragging about starting the fire. She said she was an acquaintance and that they both lived unsheltered. She also said "Matt" seemed to have "mental issues" and was known for talking to himself. She also said he had a street reputation for being "a pyro" and that she had witnessed this in an area park a year or two earlier, with Hicks playing with matches.
From there, the probable-cause document concludes by noting that when Hicks was arrested, he "fought with officers." Also noted: The burned building was last appraised at more than $800,000.
Hicks is scheduled for arraignment on July 30th.
You can follow any responses to this entry through the RSS 2.0 feed. Both comments and pings are currently closed.