FOLLOWUP: Southside Pizza robbery suspect out of jail after bail cut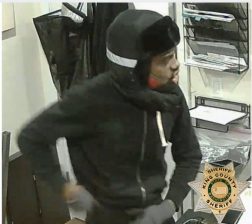 When 27-year-old Vernon L. Jackson, Jr., was charged two weeks ago in the video-recorded robbery at Southside Pizza, his bail was set at $150,000. Since then, though, according to jail records, his bail was cut to $25,000 and he got out last Friday afternoon after posting bond. The motion to reduce bail was granted by Superior Court Judge Karen Donohue at Jackson's arraignment last Thursday, despite Jackson having a criminal record including three failures-to-appear since 2011. Police say Jackson told them at the time of his arrest that he committed the robbery – which netted him a reported $40 – to get money to buy drugs. He is due back in court on January 30th.
You can follow any responses to this entry through the RSS 2.0 feed. Both comments and pings are currently closed.