FOLLOWUP: Southside Pizza robbery suspect charged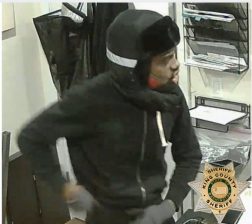 The 27-year-old man arrested in connection with last week's Southside Pizza robbery, Vernon L. Jackson Jr., is now charged.
We've obtained the King County Prosecuting Attorney's Office court documents charging Jackson with first-degree robbery. They say that after his arrest in Seatac on Friday, Jackson admitted to the robbery, saying he did it to get money for drugs and that he didn't expect anyone to be in the restaurant's office when he broke in.
His criminal history, according to prosecutors, includes convictions for residential burglary and auto theft. The charging documents also reveal how Jackson was identified as a suspect; A pawn-shop employee saw the security video of the robbery and recognized him from a transaction on New Year's Eve. A bulletin for his arrest was put out on Friday morning, and hours later a deputy saw his car and followed to a gas station, where he made the arrest. Jackson, a Burien resident, remains in the King County Jail in lieu of $150,000 bail; his arraignment is set for January 16. (Image: KCSO screengrab from robbery video)
You can follow any responses to this entry through the RSS 2.0 feed. Both comments and pings are currently closed.