White Center's new school board director Aaron Garcia takes office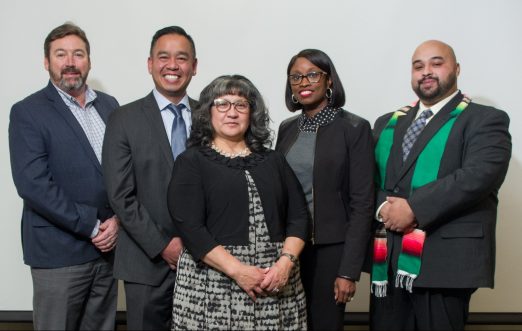 At right in that photo provided by Highline Public Schools is Aaron Garcia, elected in November to represent White Center and vicinity on the School Board. He took office Wednesday. Also announced by the district:
The Highline School Board has a new leader. During the December 4 board meeting, the board elected Angelica Alvarez as the new board president.

Alvarez has was first elected to the board in November 2009, representing neighborhoods in Burien.

"I am excited and honored to serve the Highline community in this leadership role," said Alvarez. "In this role, I will continue to advocate for all our students, schools and families."

Bernie Dorsey was elected to serve as the board vice president. He has served on the board for more than a decade and was most recently the board president. Dorsey represents neighborhoods in the Normandy Park and Des Moines communities.
Garcia won the District 1 seat with 53 percent of the vote.
You can follow any responses to this entry through the RSS 2.0 feed. Both comments and pings are currently closed.