White Center's 2019 Tree Lighting – plus Holiday Market! – set for December 15th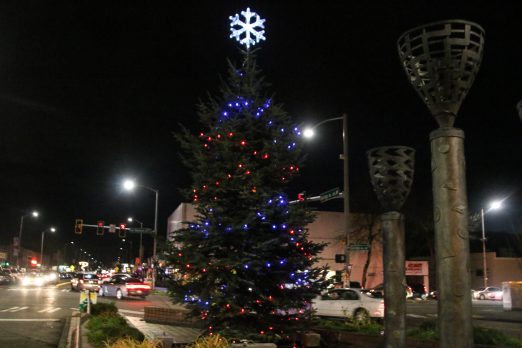 (WCN photo from 2018 Tree Lighting)
The date is set for this year's White Center Tree Lighting – and a Holiday Market is happening that evening too, for the first time. Here's the announcement we received today:
White Center is hosting its first annual Holiday Market, on December 15th at 4 pm, in tandem with the Tree Lighting! It will take place in the business district with holiday marketplaces in two locations (at Miss Sheryl's Ballet & Drunky Two Shoes BBQ). there will be featured local performers, and specials all up and down the heart of White Center!

Local artists of handmade items (please no MLM) wishing to participate in the market are encouraged to contact Sheryl at onpointmom@gmail.com for more information.
The Tree Lighting in the mini-park outside Mac's Triangle Pub will happen that night at 6 pm.
You can follow any responses to this entry through the RSS 2.0 feed. Both comments and pings are currently closed.