PROTEST: Black Excellence in Cannabis demonstrates in White Center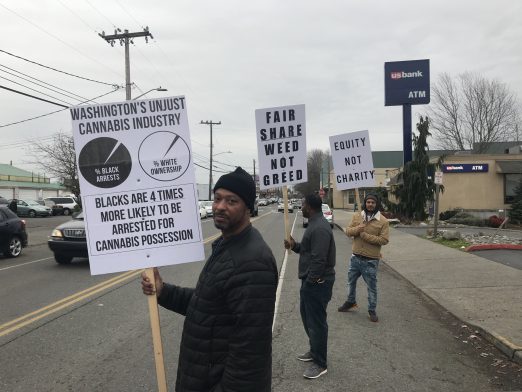 On our way to a late lunch in White Center this afternoon, we spotted these demonstrators on the sidewalk west of Uncle Ike's, so we stopped for a photo and a few questions. They are members of Black Excellence in Cannabis, a group "protesting the exclusion of African-Americans from the economic opportunities created by the legalization of cannabis." There's more background here, contending:
The "Social Equity" proposal the LCB has recently submitted to legislators is completely inadequate. African-Americans are an endangered species in the cannabis industry and the LCB has stooped to a new low of over exaggerating and inflating their demographics to make this injustice look less shameful.

As an organization we are focused on achieving fair representation for African-Americans in the cannabis industry. Many of our members were medical providers in Washington, and were prevented from obtaining retail cannabis licenses from Governor Inslee's, Washington State Liquor and Cannabis Board.
Here's a big-picture look at the inequity problem.
You can follow any responses to this entry through the RSS 2.0 feed. Both comments and pings are currently closed.