From politics to shelter to food to crime to the roundabout @ North Highline Unincorporated Area Council
By Tracy Record
White Center Now editor
Lots of news at Thursday night's North Highline Unincorporated Area Council meeting, last one before NHUAC goes on summer semi-hiatus.
Headlines included:
-Think White Center's recent increase in violent crime is gang-related? King County Sheriff's Office says no.
-White Center Food Bank needs a new home.
-Sen.Joe Nguyen implores you to speak up
But first:
–
MARY'S PLACE UPDATE: Executive director Marty Hartman and White Center site director Kecia Pannell presented the latest – three years after "we started a conversation," as Hartman put it. They began with a video: "It's up to our community to say, 'Stop this crisis'," Hartman said toward the end of the video, which featured families helped by MP. "You invited us into your community," Hartman said afterward, saying the WC shelter had helped "hundreds of families."
She presented stats including one saying that to afford the average two-bedroom apartment in King County, your income has to be almost $27/hour – "most families don't have that kind of income." MP handles the King County Community Family Shelter Intake Line, which took 3,915 calls last year alone. "We were able to shelter 41 percent of those families … but we know we can do more … to get to 'no child sleeps outside'." Of the families they serve, 94 percent are from Washington state, 83 percent from Seattle or King County. Seventy percent have at least one family member who's working – and still, they are homeless. The good news: Most families who become homeless experience that only once in their lifetime.
White Center was MP's second 24/7 shelter; now it has four. It just opened another night center. Almost all are in buildings slated for demolition – "the ultimate in recycling," Hartman smiled. They also serve single women via their day center, and they have seen a 44 percent increase in seniors among them – "there is a silver tsunami coming," Hartman said.
Right now, MP has 600 beds, triple what they had four years ago. They also have special programs: Popsicle Place, for homeless families with children have chronic health problems. "Every parent wants to sacrifice for their child's miracle" – and that may mean a job loss, a home loss. Thirteen rooms for 13 families, increasing to 45 when they move into an Amazon building early next year. (The current 13-family space is at the MP site in Burien, which MP owns, housing 200 families in all; "a couple bought [the four-acre Burien site] for us and we're paying them back.") Baby's Best Start is for pregnant women and new moms; there's a wing for it at the WC shelter. Also, the Kids' Club is at all their sites – they work with schools to be sure kids get transportation, care, etc.
Most families are with MP "for about 85 days now," said Hartman. They work on housing as soon as a family arrives, talking about what barriers might exist and how to remove them. MP works "with landlords and property owners to build relationships and identify available housing options for our families. … Our families are resilient and responsible," declared Hartman. They also have "diversion" to help some families avoid shelter altogether, moving them directly into housing rom tens or cars – 286 families last year, more than double 2017, the first year they did that.
White Center specific stats: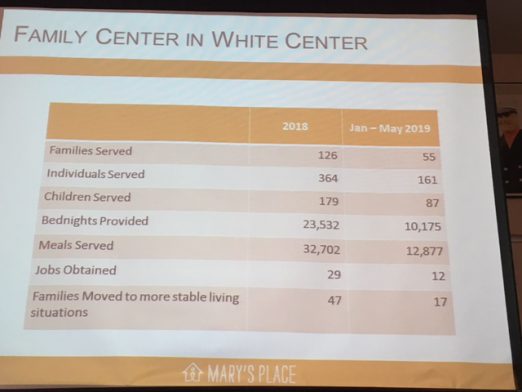 Panell took over the briefing, first with words of gratitude. Last year, 126 families were served, including 179 children. 29 people got jobs, with the help of an on-site employment specialist; 47 families were moved to "more-stable living situations." (Asked where they're finding housing, Hartman said generally to the south – Federal Way and beyond, most often, she said.)
How can you help? Landlords and connections are what they need most now, as well as "your voice …keep talking," Hartman implored. Volunteer help is big too. From yard work to reading to kids, they can use the help; teach arts and crafts, music, sewing, etc. They also have the Make-A-Home program to furnish homes for families who are moving into housing with very few belongings.
Another tidbit: The food-recovery program, with food donated by Starbucks and Amazon, has helped them bring daily food costs down from $18/person to less than $4.
WHITE CENTER FOOD BANK: Executive director Marélle Habenicht said the WCFB has had a big year, including the conversion to a grocery-store-type model and appointment system. Running more efficiently has enabled them to allow families to come three times a month instead of twice, and their distribution hours have doubled.
They have also worked on a more-dignified way for people to be served.
Their "Grow to Give" garden expanded last year, too. That's helped them better serve more families with fresh foods. It's 1200-square-feet now, with a newly installed aquaponics system. This has helped them expand what they grow – they just got four dragonfruit cactuses, for example.
In 2018:
18,491 times families shopped
1458 babies
23,448 adults
17,000+ seniors (who have a special distribution day on Thursdays; they also have a mobile distribution system for residence facilities)
76 percent of the people they serve "identify as a community of color" – a similar percentage of the staff is the same, and they have staff speaking five languages, which helps with intake
857,000 pounds of food distribution
5200 healthy-food certificates that people can take to local markets where they can find culturally appropriate foods
They grew 13,000 pounds of "ulturally relevant and requested foods" last year – items that are often expensive to buy. They rescued 175,000 pounds of food last year that otherwise was landfill-bound. "We've made a really big push in the last couple of years to recover food," Habenicht explained.
She said "volunteers are critical to what we do" – more than 400 people helped out last year. "We couldn't do what we do without them," she said.
They've been working with One Million Tampons to cover menstrual needs, including partnerships with schools.
About the Hub Project redevelopment: The WCFB will not be part of it after all, because they couldn't run a big capital campaign for it as well as their own capital campaigns. So "we need a new home," about three to five years from now. They learned from talking to people that the WCFB needs a more-central location in WC anyway. "We do a lot more than (offer) food … being closer to downtown White Center gives us more opportunities." They need 6,000 square feet of a building and about half an acre outdoors for garden and parking. "That is what we are hoping for." They also hope it will be a green building – a company recently offered them solar panels, which will have to wait until they move toa new HQ.
But: "Our ultimate goal is to not be needed … to shut our doors." So they hope to own their future location, to be self-sustaining, and "so we can give it back."
A Greenbridge resident brought up something Habenicht mentioned briefly – a problem with the roundabout – she said that she was told the 8th/108th bus route was removed and that "the roundabout is illegal" but another one is going to be built at 8th/102nd. The topic resurfaced multiple times during the meeeting.
SEN. JOE NGUYEN: Having heard about the bus/roundabout snafu, Nguyen leaped to the front and said he had just texted County Councilmember Joe McDermott to say, "What the f*** is going on?" Not specifically his jurisdiction but "it uses state money," so why not.
He also mentioned his WC roots, with a shoutout to "my librarian from Cascade Middle School" being in the room.
As for the Legislature:
"It was a fantastic year for folks who are more progressive," Sen. Nguyen said. He said it's not a case of politics being good or bad – while 400+ bills got passed, more than usual, that's still only about 10 percent of what was introduced. $47 million for the 34th District, "largely for this area," including the finishing of 4th Avenue, he said. $2 million to finish the Burien Mary's Place, too. "You really have to fight for everything …if you have legislators who don't participate, who don't show up, you get screwed." He said it's why he was "more aggressive than … well, everybody." He said he doesn't care if he gets re-elected, he just wants people to be involved.
Education was a big issue for him, he said. Access to education is a big thing, mentioning the Washington Promise scholarship covering tuition for students from families making less than $50,000 a year. He said they lowered the real-estate excise tax for 80 percent of people – "if your property is worth less than $1.2 million." That tax affects you when your house sells, it was clarified. Asked later about the school-funding situation, Nguyen mentioned passage of the school-levy lift.
Transportation was another big issue for him.
But he said the first thing he noticed in Olympia was "rampant mediocrity." He noted that it's a part-time Legislature. And he found himself the legislative tech expert because he works at Microsoft. He shared an anecdote about someone trying to pass a bill that technically "didn't make any sense, and if I wasn't there" to say something, it might have passed.
He was brisk and funny and at times of course deadly serious, saying he opposes youth detention and the King County youth-detention center that's being built. He also mentioned the law he passed clearing marijuana convictions for those who were convicted as adults.
Sen. Nguyen said he'd met with the governor earlier in the day and fixing the justice system was one topic.
He also mentioned $900 million in support for endangered orcas. He said he believes there are ways to boost the orca population without killing sea lions/seals.
He reiterated, "I can't tell you how important it is to advocate." Be loud. Speak up. It's what he says he's doing.
If you can't go to Olympia in person, someone asked, what's the best way to engage?
Email and call, said Sen. Nguyen. He also noted that remote testimony is allowed in the Senate, too. He said he's doing everything he can, and also expressed his disgust at some – even some who call themselves Democrats – but "don't do any work."
Another question had to do with the inequitable distribution of marijuana tax money and stores. Nguyen invited followup conversation with the person who asked.
His election success came up – "we doubled the number of people of color" in the Senate – "how may is that?" "eight" – as did a wide variety of topics, from tax reform to arbitration to family-leave requirements.
Housing and homelessness will be his focus next year – noting that keeping people housed is "three times cheaper" than getting them out of homelessness once it happens.
NHUAC president Liz Giba brought up the correlation between poor health and environmental justice. She said they've been trying to get a study done.
CRIME UPDATE: "We had a significant increase in violent crime last month," said Deputy Bill Kennamer, who is now the community crime-prevention deputy (title change from "storefront deputy,"he said).
Is it gang related? Kennamer said he'd asked.
A detective and detective-sergeant positions have just been advertised for the Gang Unit, but right now, it remains a unit of one, he noted.
"None of the recent WC shootings are gang related or gang motivated," is what Det. Joe Gagliardi told him, Kennamer said. Certainly "gang-like," he acknowledged.
No updates on the shooting outside Saar's Super Saver,but it remains
Burglaries are the same, auto thefts are down significantly.
Crime analyst: 16th/108th arrests of people with guns
10th, 98th/16th another arrest for unlawful gun possession
(Yes, they are "local" suspects – Delridge to Burien – "a lot of them don't live here but this is the middle")
He mentioned a couple problem properties – "one on 13th and one on 17th" – are on his radar, and something is going to be done with the latter, a former business property that was bought by what Kennamer described as a property-flipper who's just seen it for the first time and is working to get it cleaned up so he can bring in a new tenant.
Other points of discussion included noise enforcement. "It's archaic, the noise ordinance," lamented Dep. Kennamer.
What about parking? There is no street camping in White Center, Dep. Kennamer declared, while warning "I'm not solving the problem, I'm just moving the problem." He said he's "ruthless" about parking enforcement. But, he said, the enforcement is usually related to people "making a mess" – if they don't, he doesn't know they're there.
Back to the roundabout: "We are working with Metro to find a fix," said a Local Services rep. Metro buses are legally allowed to go over them, but "the passengers are kind of tossed around every time they do that." But Kennamer noted that the roundabout has achieved the traffic calming long sought
asklocalservices@kingcounty.gov if you have a problem or question.
P.S. We were in touch with Local Services and Metro the day after the meeting to ask about the roundabout situation. The Road Services Division simply acknowledged the situation:
King County Road Services Division is aware that the roundabout at 8th Avenue SW and SW 108th Street – which was recently installed to mitigate a high-collision location – presents challenges for Metro buses. We are working collaboratively with Metro to identify as quickly as possible a solution that serves the community and all users of the intersection in a safe manner.
Metro said the situation's in its third month:
Route 128 southbound was rerouted in March, serving different stops after we learned our 40-foot-long buses couldn't safely navigate the left turn through the roundabout. Northbound route 128 trips can navigate a right turn and they remain unchanged on their original pathway. Details of the new stops served were communicated with riders.
NEXT MEETING: In September. But look for NHUAC at the Jubilee Days Street Fair in July.\
You can follow any responses to this entry through the RSS 2.0 feed. Both comments and pings are currently closed.