WHITE CENTER SHELTER: County takes task force's suggestion, changes plan to 'family shelter'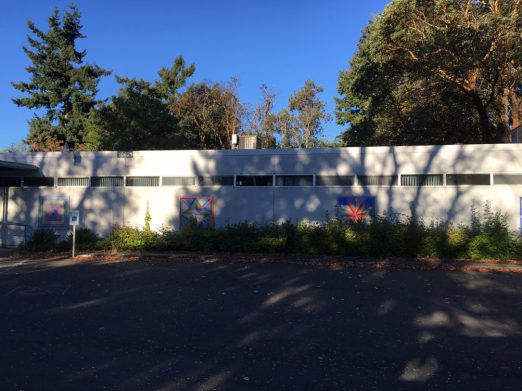 (WCN file photo of future shelter site)
By Tracy Record
White Center Now editor
Two and a half months after that tumultuous meeting about a proposed shelter at the former King County Public Health building at 8th SW/SW 108th, the proposal has changed.
At the urging of a small community task force that was formed in the wake of that meeting, the county is now planning a "family shelter" for the space instead of a shelter for single adults and couples. The original plan drew sharp criticisms including its proximity to school and park facilities and the proposal for it to be "no-barrier."
We just talked with the county's point person, Housing and Community Development manager Mark Ellerbrook, who will be at tomorrow night's North Highline Unincorporated Area Council meeting to present a briefing about the new plan.
"The proposal to open it as an (adults-only) shelter is no longer on the table," Ellerbrook confirmed. They're also no longer planning to work with the Salvation Army, but instead, they expect the operator will be Mary's Place, which already runs shelter space for families elsewhere in the region. (Its executive director will join Ellerbrook at the NHUAC meeting.)
Mary's Place had toured the space "a couple times," and gave a presentation at last night's meeting of the task force.
This means a modification in the permit application for changing the building's use, Ellerbrook said, and that means they're not likely to be able to open the facility any sooner than January.
The shelter also likely will operate with fewer people than first planned; while they were discussing a capacity of 70 under the original plan, they're now thinking more like 25 to 30 people, according to Ellerbrook. "Obviously we need more shelter for all populations across the county," he said. "Countywide, 600 families are in need of shelter." The prospective client base for the new White Center plan, he said, would be the families of Highline Public Schools student currently experiencing homelessness; as of the most recent county, that includes 36 families with 76 students.
What would the definition of family be in this context? we asked.
As discussed by Mary's Place, Ellerbrook said, it could be a parent and child – that could include adult children – maybe a single parent, maybe a couple, maybe a multigenerational family. "We need to work through the details." Mary's Place has some families in its North Seattle shelter with up to eight members, he said.
While they were touring the site, he added, a family came by "and asked if the shelter was open yet."
The first step toward this is the permit modification, as they are "trying to figure out" what will be needed, such as, potentially, hygiene facilities. They might open and continue making modifications while they're already in operation, "so we could get it operating and see what tweaks need to be made."
What would happen, we asked, to the other people in White Center that the county had planned to serve?
Ellerbrook said the new county budget has $6 million in funding for "two shelters in and around downtown for single adults, 24/7 shelters we were discussing, as the family shelter will now operate … as we do outreach to (people experiencing homelessness) in White Center," they would hope to be able to point those people toward the future downtown shelters.
How much will the family-shelter plan cost? we asked. Ellerbrook says they don't yet know what the county's share of the cost would be and how much Mary's Place might be able to operate.
Overall, he lauded "a good process (working with) the community at large to really identify the need and the issues in the community" resulting in this change of plans.
But bring your questions to tomorrow's North Highline Unincorporated Area Council meeting, 7 pm at North Highline Fire District HQ (1243 SW 112th). After that, Ellerbrook says, there will be a second community meeting about the new shelter proposal, but the date's not yet set – "probably early January."
BACKSTORY: NHUAC's September meeting brought first public word of the planned shelter, though the county later acknowledged the plan had been in the works for months. The community task force that generated the family-shelter plan was created following the raucous-at-times September 15th community meeting.
You can follow any responses to this entry through the RSS 2.0 feed. Both comments and pings are currently closed.