REAL ESTATE: White Center Bartell Drugs building for sale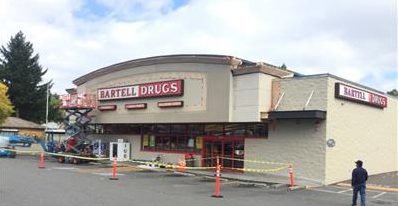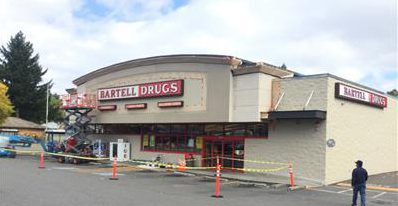 (King County Assessor website photo)
Our periodic check of commercial real-estate listings revealed a White Center listing of note: The site of Bartell Drugs at 15th/Roxbury. The company doesn't own the site, and has a lease that currently runs through 2026. And Bartell spokesperson Hannah Kubiak told WCN, "Our landlord is selling but that does not change anything for Bartell's. We'll still be here to serve our neighbors in White Center!"
Nonetheless, the owner is selling the site, asking $5.1 million. The online brochure both touts its proximity to Seattle and its exemption from city policies. Excerpts:
Pro-Business Policies in White Center, Just Outside of Seattle Jurisdiction and Taxation

Bartell Drugs – White Center is located on the south side of Roxbury Street, just outside of Seattle city limits in Unincorporated King County. This location offers several unique economic and legal attributes. Specifically, the property IS NOT subject to Seattle's $15.45/hour minimum wage requirement, and Seattle's much publicized "Soda Tax" which imposes a 1.75 cent/ounce tax on sugar-heavy drinks, including soda. These initiatives increase operating costs, and thereby increase prices to customers. Bartell Drugs – White Center has directly benefitted relative to the nearby competitors, including the Walgreens located across the street in Seattle, with lower prices and more favorable operating costs. As Seattle continues to levy additional requirements on business and real estate, Bartell Drugs – White Center will to hold a competitive advantage in the market.
And:
Infill Long-Term Redevelopment Site with Flexible Zoning and Unlimited Height Requirements

As an infill location with desirable proximity to downtown Seattle, investors should consider the long-term redevelopment potential for the site. The 'Community Business' zone allows for a wide variety of commercial, residential, and mixed-uses. The 'Special District Overlay' allows for unlimited height limits at the southerly portion of the site and 30' foot height limits at the northerly portion of the property. As the property is located outside of Seattle jurisdiction, the Mandatory Housing Affordability (MHA) requirements will not apply, and developers can circumvent affordable units and avoid the mandatory contributions to the housing fund. Given the high traffic counts along Roxbury Street and the rapidly expanding popularity of the area, the subject would be an excellent candidate for future mixed-use development.
The brochure notes that the store was built in 1980. County records show that the site changed hands last year, in a $4.1 million transaction, and is currently owned by an Edmonds-based investor.
You can follow any responses to this entry through the RSS 2.0 feed. Both comments and pings are currently closed.