RAT CITY RECON 2018: Get ready to rock September 15th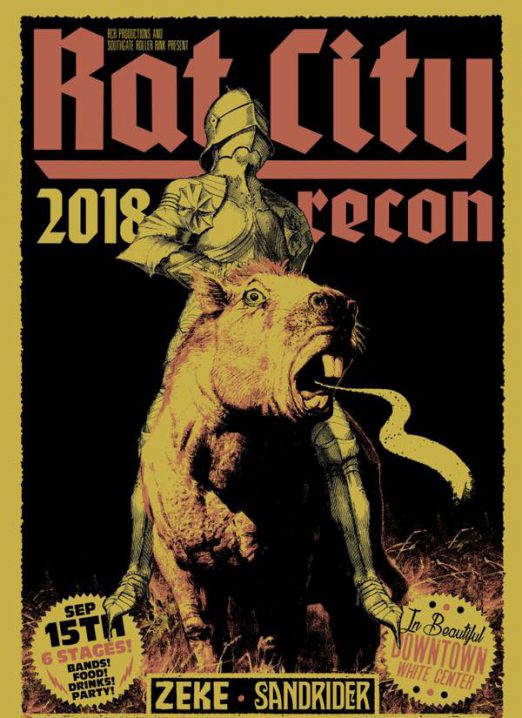 Just announced!
Rat City Recon, Monumental Undertaking, and Match + Gasoline present
RAT CITY RECON 2018
Saturday, September 15, 2018 – 4 pm-1:30 am
Southgate Roller Rink* | Drunky Two Shoes BBQ* | Full Tilt Ice Cream** | Mac's Triangle Pub*

— $20 advance tickets come with a Recon souvenir and $5 off a Recon t-shirt at the event
— *21+, valid I.D. required; **all-ages
— www.ratcityrecon.com

ZEKE, SANDRIDER, AND FREE SHOWS AT RECON 2018!

The 6th iteration of Rat City Recon is upping the ante! Epic Seattle rockers Zeke and the stoner-sludge of Sandrider will headline a horde of outstanding Northwest/West Coast bands rotating between four venues and six stages on the main drag in White Center. Additionally, the late afternoon shows at Drunky Two Shoes BBQ, Full Tilt Ice Cream, and Mac's Triangle Pub will be free. Tickets will be required for entry to Southgate Roller Rink.

White Center is ready to rock for Recon 2018 – in addition to the Recon stages, the neighborhood is full of a wide variety of bars and restaurants for all types of food and fun.
You can follow any responses to this entry through the RSS 2.0 feed. Both comments and pings are currently closed.