White Center's first Starbucks opens with training program brewing as well as coffee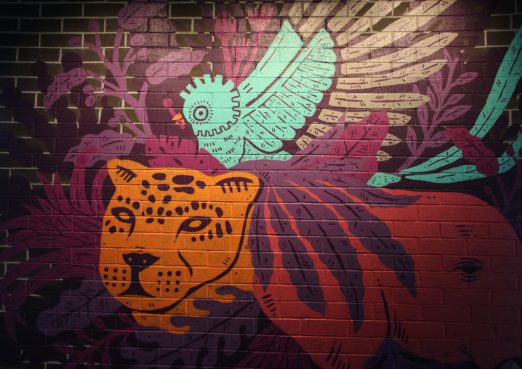 By Tracy Record
White Center Now editor
A few hours from now, the new White Center Starbucks coffee shop at 16th/100th will start its second day of business.
We were first to bring you word it was on the way, a year ago, and first to report its opening date. Now it's here, and the company has gone to great lengths to try to ensure that this doesn't play out as a case of a corporate marauder moving into a fiercely independent community, albeit one that's not far from its corporate HQ in SODO.
Before the opening-day bustle, we were invited to visit earlier this week, to hear about the store's unique features.
What you see atop this story is one of them – a mural near the entrance, painted by an employee – "partner" in Starbucks' parlance – Victor Melendez. And the people are what the Starbucks reps most wanted to talk about. We sat down for a few moments with Nicole Lopez, district manager (West Seattle, White Center, SODO, Georgetown), and Rodney Hines, director of U.S. social impact.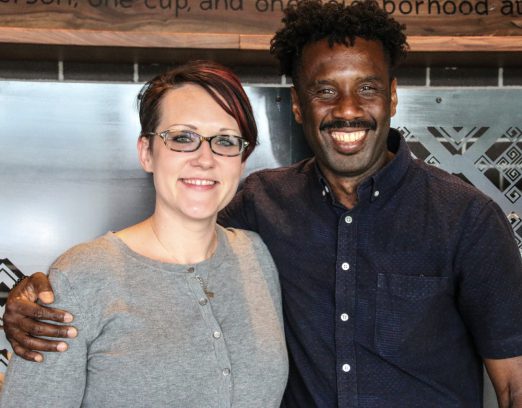 We photographed them in the "training center" area of the White Center store, which will be used for vocational training that could lead to jobs at Starbucks or elsewhere. The company had announced in September of last year that it would partner with a local nonprofit, in a model it's already used in a handful of other stores around the country, and the one chosen here is the YWCA (which has a nearby base at Greenbridge). They'll also work with Highline Community College. The curriculum for the training center will teach customer service. The training-center space also potentially will be available as a community hub for meetings and gatherings.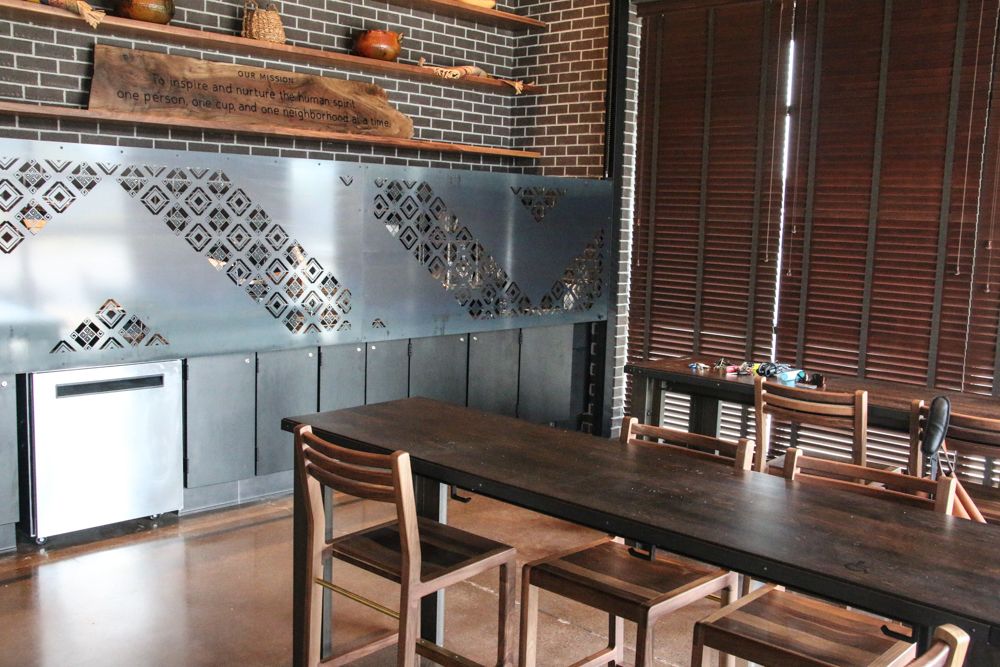 Meantime, they tout the fact that the White Center opening means some Starbucks workers who live nearby could transfer to the new store – workers who, Nicole explained, were taking multiple buses to their jobs at stores farther away. The new store has a staff of 22, five part-time and the rest full time (at least 32 hours). Nine were new hires, the rest transfers.
The staff, as a result, Rodney added, reflects the community. And they're proud to say the store – one of two new buildings constructed where the old White Center Chevron was razed – was built by a woman-owned business, Saybr Contractors, the firm's first project for Starbucks.
As of our pre-opening visit, Starbucks was still seeking one more component to their local economic-development program – a local maker – woman or person-of-color-owned business – with whom to partner, creating consumable products that could be sold in the store, and perhaps beyond.
Speaking of consumable – something unique to this location, Nitro cold brew on tap – so they're expecting to be offering "lots of samples." Also , this is one of a few Starbucks stores selling Mercato food, made fresh daily and donated (if there is unsold food) nightly to food-security programs.
The new store is open 5 am to 9 pm.
You can follow any responses to this entry through the RSS 2.0 feed. Both comments and pings are currently closed.