Starbucks, Popeye's on the way to White Center Chevron site
Thanks to the texter (we're at 206-293-6302 any time) who tipped us to this tonight: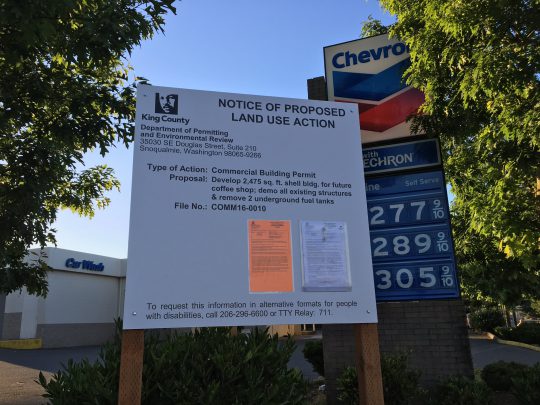 A brand-new land-use sign is up on the periphery of the White Center Chevron at 15th/16th/100th, for a project titled Starbucks of South Seattle. The notice also mentions a separate permit application forthcoming for Popeye's Fried Chicken.
We won't be able to reach the respective chains for comment until next week, but county records show the site – long listed for sale – was sold two months ago to Madison, a well-known Seattle developer, for $2,250,000.
Right now, the standalone Starbucks nearest White Center – which of course has excellent independent coffeehouses including Caffé Delia and Dubsea Coffee – is in West Seattle's Westwood Village shopping center. The nearest Popeye's is in Renton.
The infosheet that we found posted on the south side of the lot says a public comment period is open until June 27th, and describes the first part of the project as involving "development of a 2,475-square-foot shell building for a future coffee shop, demolition of existing convenience store, gasoline filling station, removal of two underground storage tanks, and car wash." While the notice says the application was filed with the county May 9th, it lists the "date of mailing" as today (June 3rd).
You can follow any responses to this entry through the RSS 2.0 feed. Both comments and pings are currently closed.