REMINDER: Bring your questions and concerns to King County officials at June 7th service-area meeting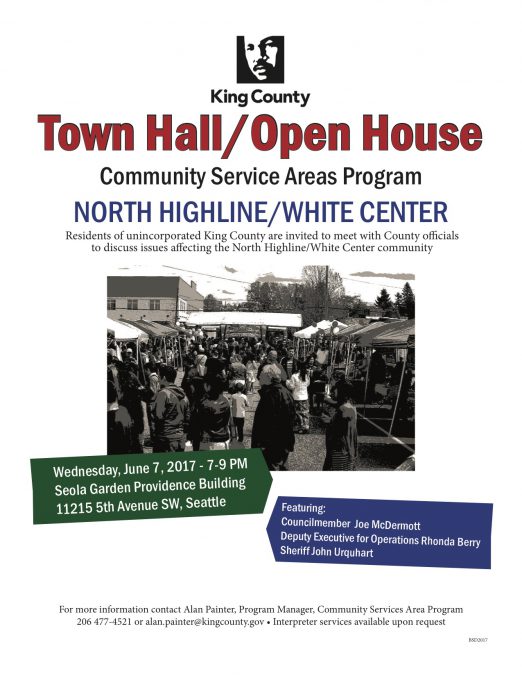 You got first word of it from the North Highline Unincorporated Area Council … and now one more reminder from King County has just arrived in the inbox, with this event now less than two weeks away:
You are invited to attend the 2017 King County Community Service Area Town Hall and Community meeting for residents of North Highline and White Center. The Town Hall meeting is scheduled for Wednesday, June 7 from 7 to 9 PM at Seola Garden-Providence Building, 11215 5th Avenue SW.

The meeting will provide residents of unincorporated King County and other interested residents an opportunity to meet and discuss issues of concern with Councilmember Joe McDermott, Rhonda Berry of the County Executive's Office, Sheriff John Urquhart and key officials from King County Department and Branches including Transportation, Natural Resources and Parks, Permitting and Environmental Review, the Assessor's office and others.
It's the annual chance to bring your concerns and questions directly to the county officials who are accountable.
You can follow any responses to this entry through the RSS 2.0 feed. Both comments and pings are currently closed.