ROAD WORK ALERT: Major repaving project starts soon on Highway 509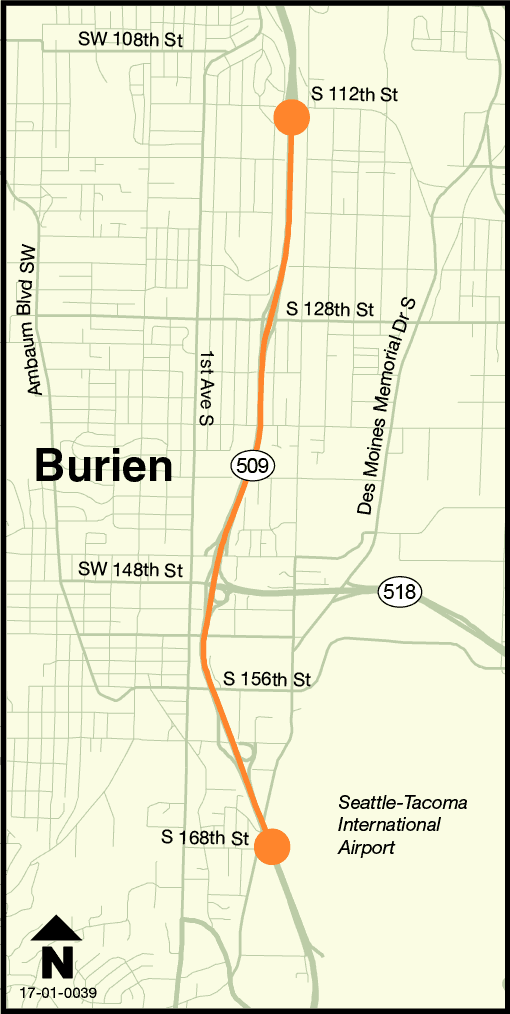 If you use Highway 509 – you'll want to know about this. From WSDOT:
Construction season is in full swing and in Burien, a project to repave northbound State Route 509 will soon join the mix.

Contractor crews working for the Washington State Department of Transportation will repave more than 3.5 miles of the highway between South 168th and South 112th streets to create a smoother driving surface. They will also repair and replace portions of guardrail. The $4.6 million project begins Sunday, June 4.

"Driving this section of SR 509 is no picnic. The pavement is worn and rough," said WSDOT Project Engineer Aleta Borschowa. "Some of the guardrail is also in need of repair, so we will actually replace it with concrete barrier, which is easier to push back into place following a collision."

Also known as the Burien Freeway, this section of northbound SR 509 is cracked and rutted from years of vehicle traffic. Approximately 28,000 vehicles use this section of roadway each day, which was last repaved in the mid-1990s.

Plan for travel delays during construction

· Drivers should expect single lane, ramp and shoulder closures on northbound SR 509 during daytime and nighttime hours for paving work.

· Crews will need to close the left lane of northbound and southbound SR 509 for a total of three weekends and occasional weeknights to repair and replace the guardrail in the median.

Know before you go

· For more information on scheduled lane reductions and detours, visit the King County construction page.

WSDOT contractor, Tucci & Sons, Inc., expects work on the $4.6 million project to wrap up in fall 2017.
You can follow any responses to this entry through the RSS 2.0 feed. Both comments and pings are currently closed.