Gunfire, damage in White Center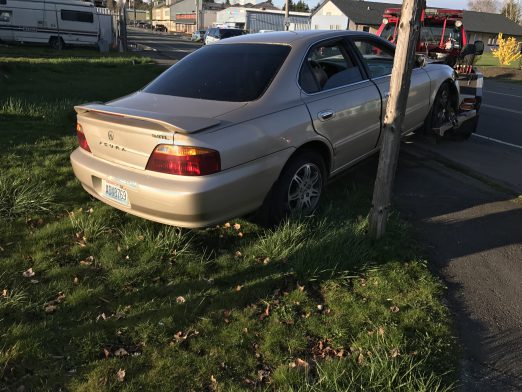 For those asking about the incident at 14th SW and SW 102nd on Wednesday evening: We went to the scene after a tip, but aside from the fact that there were bullet holes in the car shown in our photo, didn't find out much. So this morning, we asked King County Sheriff's Office spokesperson Sgt. Cindi West, who tells WCN:
Yesterday around 5:15 pm we received a call of shots being fired in the area of the 1400 block of SW 102nd. When we arrived, we found an Acura that had crashed into a small concrete wall and a parked truck in the 1400 block of SW 102nd.

Witnesses told us people in the Acura and another (unknown) car were shooting at each other from the vehicles. After the exchange of gunfire, both cars fled in different directions; the Acura struck the concrete wall and truck. The occupants of the Acura fled on foot. There was an unoccupied vehicle that was struck by the gunfire that was parked nearby. Does not appear as though anyone was struck by bullets.
So, no arrests so far.
P.S. If you're wondering – well, they have the car, did they find its owners? – Sgt. West explains that while the car was not reported as stolen, there is a "report of sale" on file with its new owner "not listed."
You can follow any responses to this entry through the RSS 2.0 feed. Both comments and pings are currently closed.