UPDATE: White Center bank-robbery suspect arrested in Burien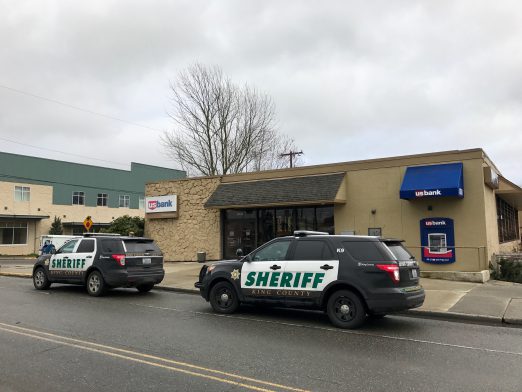 FIRST REPORT, 1:29 PM: Thanks to Matt from Moonshot Coffee for the first tip on this – the US Bank in the 9800 block of 15th SW in White Center has been robbed. We've also just received information from King County Sheriff's Office spokesperson Sgt. Cindi West, who says the robber gave the teller a note and then got away on foot. No description yet. They're using a K-9 team for the search. More to come.
2:01 PM UPDATE: Sgt. West just sent this:
Suspect is a white male, 20s, last seen wearing black hoody, black gloves, blue jeans, and a red beanie. May have a tattoo on his neck.
Also added a photo from Matt (thank you!).
3:49 PM UPDATE: And another update from Sgt. West – a suspect has been arrested in Burien. "He was found in the Burien Library by one of our detectives. He is a 24-year-old transient man." Sgt. West says the robber did not get away with any money.
You can follow any responses to this entry through the RSS 2.0 feed. Both comments and pings are currently closed.