White Center Community Summit planned for January 28th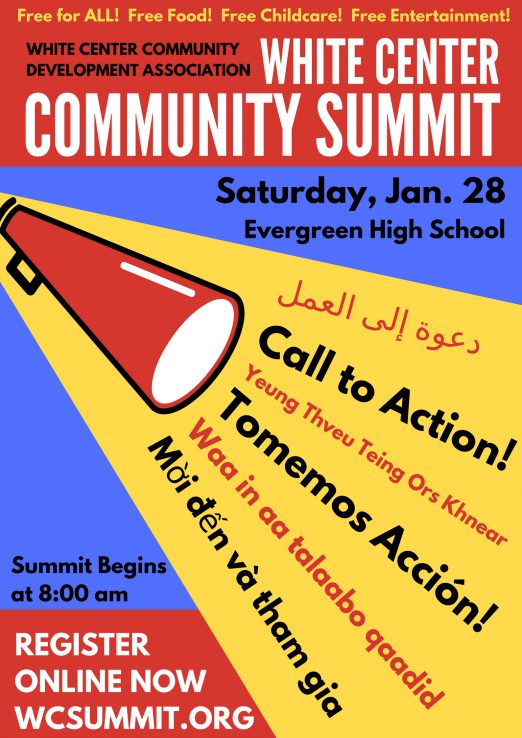 Just announced – this year's White Center Community Summit, coming up on January 28th. From the WC Community Development Association:
White Center Community Summit 2017 at Evergreen High School
830 SW 116th
Saturday, January 28th 8:00 AM-3:00 PM

Each year the White Center CDA hosts a community summit to bring neighbors together to talk about the state of their community and plan for White Center's future – on January 28, the CDA will host the annual summit at Evergreen High School.

This year's summit theme is "Call to Action." What current initiatives are being undertaken and how can we, as community members, come up with our own solutions to growing our community strengths or addressing community issues? The Summit is also a time to celebrate ourselves as a neighborhood, so please bring a friend and join us!

The summit is always free and open to every resident of White Center, including youth. Free child care, interpretation services, and breakfast and lunch are provided.

We start early with free breakfast and local community organizations tabling so that residents can meet and learn about groups working in their neighborhood. There will also be offerings from local businesses like food and product samples, so attendees can celebrate businesses, parks, & upcoming events in White Center.

All summit attendees will hear a brief overview of the "State of White Center", exploring trends in major issue areas, and then will have the opportunity to break out into small groups to discuss and mobilize around an in-depth issue of their choice – housing, health, economic development, safety, or education.

Youth, don't be shy – you'll be given special time to learn about each topic and present your findings to the larger groups.

Last year, residents came together to meet with county, city, and CDA staff to learn about as well as voice concerns and ask questions about annexation. The results of last year's summit will be available for attendees to view.
You can register via wcsummit.org.
You can follow any responses to this entry through the RSS 2.0 feed. Both comments and pings are currently closed.