ANNEXATION? Boundary Review Board's final vote on potential Seattle annexation of North Highline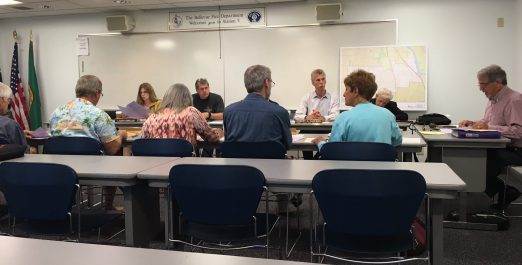 7:15 PM: We're in Newcastle, at Bellevue Fire Station #9, where King County's Boundary Review Board is in its regular meeting – exactly one month after the conclusion of its two-day hearing on Seattle's proposal to annex White Center and most of the rest of what's left of unincorporated North Highline. (Our coverage of that hearing: Night one here, night two here.)
Tonight, the board is scheduled to take its final vote on whether to approve the proposal. This meeting doesn't include any further public testimony; no one is here but us and two City of Seattle representatives. Their approval is still just another step in a long process; we'll get into that once they take their action.
7:19 PM: Board members had no further comments, questions, or discussion of the proposed approval before voting to approve it, with one "no" vote (Laura Kiselius) and one abstention. The board's executive Lenora Blauman says this now means the motion will be filed tomorrow and that will open a 30-day appeal period. There is one point of discussion after the vote – a member says there were some important concerns raised at the hearing, and she hopes that they can be pointed out in the cover letter to the motion, to ensure the city of Seattle is officially aware of those concerns. It was subsequently noted that two Seattle reps are here, and the board member said that's why she pointed it out. Without further discussion, that concluded the item and they've moved on to unrelated business.
7:26 PM: Here's where the process goes from here – after the appeal period, if the decision stands, it's then up to the city to pursue the annexation. (We talked with Blauman after the meeting; she says appeals would be filed through King County Superior Court.)
City of Seattle staffer Kenny Pittman had told us that "community engagement" with North Highline residents would ensue. The city had said it hadn't decided whether to seek a 2017 vote or 2018 vote by residents of the potential annexation area. But before a vote, the City Council would have to approve sending the proposal to voters. It's notable that the Seattle City Council has many new members since the last time annexation came up for discussion.
You can follow any responses to this entry through the RSS 2.0 feed. Both comments and pings are currently closed.