UPDATE: About the helicopter over south White Center/Shorewood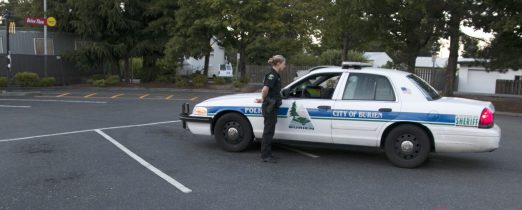 (WCN photo – deputies conferring behind the McDonald's in the search zone)
8:27 PM: Thanks to everybody asking about this – scanner traffic confirms a search is under way near Ambaum/114th for a suspect, and that's brought out the Guardian One helicopter, with a King County Sheriff's Office K-9 on the way too. We haven't heard what the suspect is being sought for, but deputies do seem to know who they are looking for, and it's someone reported to have a record. Right now the search scene includes the storage business across from the Ambaum McDonald's; one reader tells us they've also seen deputies a bit further south. We're heading out to see what more we can find out, and we'll update if/when we hear anything more.
ADDED: The Guardian One crew tweeted some information shortly after we had checked their feed and saw nothing. They tweeted, "In White Center, looking for white male, 6-2, black running shorts and shaved head. Wanted for assault and warrant. Ran from McDonald's."
8:52 PM UPDATE: We are in the area now and just talked briefly to deputies. They say the assault allegation involves domestic violence. Guardian One is still circling.
9:32 PM UPDATE: We left the area a little while ago, same time that the helicopter departed – which wasn't because of an arrest, but because they had to refuel. Meantime, a KCSO K-9 team had arrived for a search in the area. So far, we haven't heard of anyone being taken into custody, but are continuing to monitor, and if we don't hear anything definitive sooner, we'll check with KCSO's media-relations officer in the morning to see if they have anything new to report. Our understanding is that the victim did not require hospitalization.
You can follow any responses to this entry through the RSS 2.0 feed. Both comments and pings are currently closed.