New name for Lakewood Park: County Councilmember Joe McDermott sponsoring ordinance to rename it in honor of longtime advocate Dick Thurnau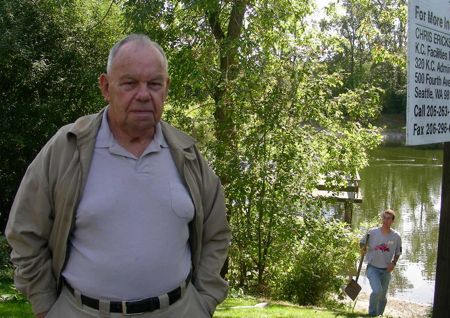 (WCN photo of Dick Thurnau from 2008)
More than a year after the death of longtime community advocate Dick Thurnau, the King County Council will soon consider an ordinance renaming Lakewood Park in his honor. Councilmember Joe McDermott just sent a copy of the ordinance that he put together "with a number of White Center community groups … They see this as an opportunity to create a legacy for someone who worked so hard to improve a struggling aspect of the community into something that could be widely enjoyed by many." Mr. Thurnau lived steps from the park and worked tirelessly to both tend it personally and advocate for it and its little lake, plagued by water-quality problems that have been lessened via remedies for which he fought. Councilmember McDermott says the park-name proposal "will likely go before the King County Council not long after our summer recess, which concluded this week." We'll keep an eye on the council calendar to watch for a meeting date and comment opportunities. Meantime, read the proposed ordinance here, or below:
You can follow any responses to this entry through the RSS 2.0 feed. Both comments and pings are currently closed.