VIDEO: King County Sheriff's Office, North Highline Fire District, AMR ambulance, other safety specialists visit White Center Heights Elementary
(UPDATED EARLY THURSDAY with more video, photos)
The youngest students at White Center Heights Elementary School got a lesson today that will last their whole lives: Finding out firsthand about public-safety personnel and what they do, during the school's second annual Emergency Services Day. In our video, above, the star of the show was the King County Sheriff's Office helicopter Guardian One, which landed right on the school's playfield after circling a few times. Once it had come to a full stop, the students got to go over for a close-up look: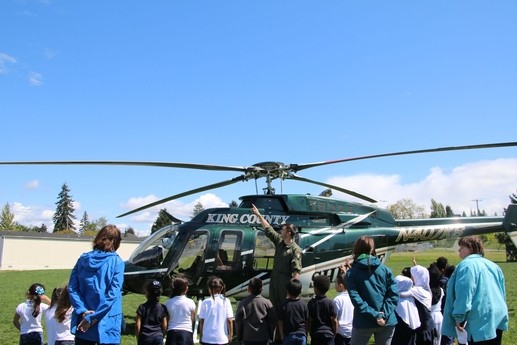 But the helicopter was not the only visitor. Public-safety vehicles including a North Highline Fire District engine and crew rolled onto the WC Heights playground for show and tell: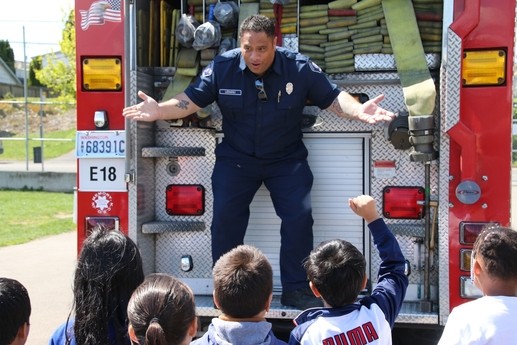 Ever wonder how a fire engine works and what equipment's on board? Listen to the explanation and Q/A for this group of students:
An AMR ambulance was there too, with an EMT who has a special connection to the school – David Sonsteng is WC Heights Elementary's PTSA president: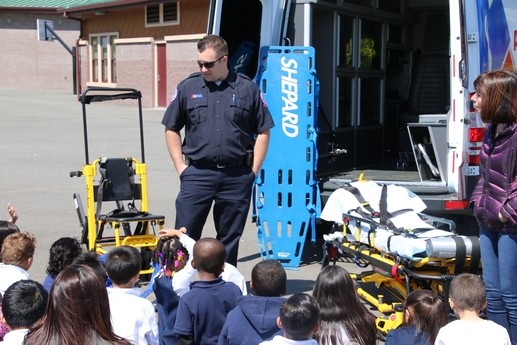 And a KCSO Gang Unit detective showed the students a patrol car as well as explaining his gear, from weapons to radio: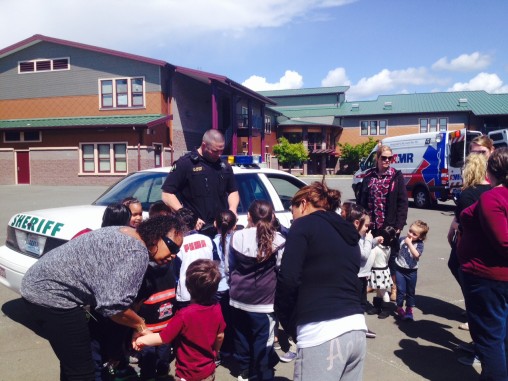 The students included WC Heights kindergarteners who had been working on their "community helpers" module, and preschool and Head Start students who were finishing up a "transportation" module. Introducing young children to emergency personnel in a non-emergency situation is helpful in case of a future emergency – firefighters, police and others might look scary with their uniforms and equipment unless a child recalls having learned about who they are and what they do. So all these little ones went home today with stories to tell: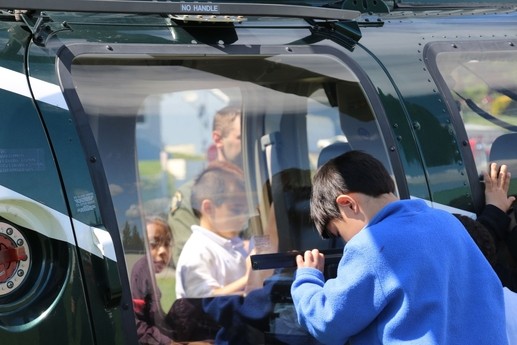 (Here's our coverage of the first WCH Emergency Services Day last year.)
————————-
————————-
EARLIER: Below, the short version of our story, originally published Wednesday afternoon:
During a burst of sunshine between showers, White Center Heights Elementary students greeted special visitors for the school's 2nd annual Emergency Services Day – King County Sheriff's Office (including the Guardian One helicopter and a Gang Unit detective), North Highline Fire District, AMR (ambulance), and more. Above, a quick bit of video from right after Guardian One's landing on the school playfield – we have much more to add later this evening.
You can follow any responses to this entry through the RSS 2.0 feed. Both comments and pings are currently closed.