Contract extension for Highline Schools superintendent Dr. Susan Enfield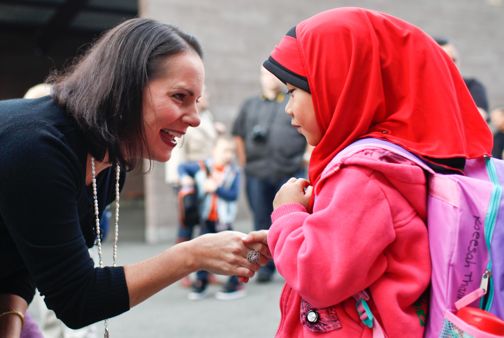 (WCN photo from 2012)
Announced today by Highline Public Schools:
The Highline School Board unanimously approved a contract extension for Superintendent Susan Enfield at its regular meeting on Wednesday. Dr. Enfield's contract now runs through 2017, coinciding with the term of the district's strategic plan.

"We are making good progress toward the bold goals in our strategic plan, and we have the right leader to get our students to those targets," said School Board President Michael Spear. "We are confident in the capabilities of our students, the good work of our teachers, and the outstanding leadership of Dr. Enfield."

Dr. Enfield led the development of the strategic plan, which outlines ambitious goals for student achievement by 2017:

19 out of 20 students will meet or exceed standard in all core subjects by the end of Grade 3.
19 out of 20 students will pass algebra by the end of Grade 9.
19 out of 20 students will graduate prepared to choose their future.

"I am grateful for the board's support and confidence in me," said Dr. Enfield. "I am so honored to serve the students and families of Highline, and I look forward to continuing to work alongside all of our staff to ensure that each and every student is known by name, strength and need—and that we continue to make progress toward our 2017 goals. Together, I know we will achieve great things for our students, each one of whom deserves the very best."

Dr. Enfield began as Highline Superintendent in July 2012. Before coming to Highline, she served as Chief Academic Officer and Interim Superintendent at Seattle Public Schools. Previously, she held leadership positions in Evergreen School District (Vancouver, Washington), Portland Public Schools, and the Pennsylvania Department of Education.

Dr. Enfield is a graduate of the University of California at Berkeley and earned master's degrees in education from Stanford University and Harvard University. She holds a doctoral degree in Administration, Planning and Social Policy from Harvard University with a concentration in the Urban Superintendents Program.
You can follow any responses to this entry through the RSS 2.0 feed. Both comments and pings are currently closed.