King County Sheriff's Deputy BJ Myers leaving White Center Storefront role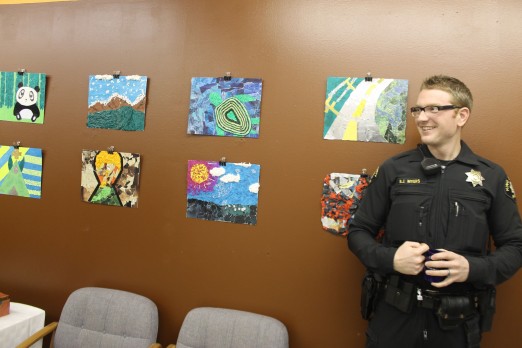 (Deputy Myers with a community art exhibit inside the WC storefront: WCN photo, March 2013)
Out of the WCN inbox, from King County Sheriff's Deputy BJ Myers – he's leaving the Storefront Deputy job, but not entirely leaving White Center:
Dear White Center,

After three years in the White Center Storefront I have been selected for a new assignment on patrol. I will work White Center, Vashon, and Skyway and be more involved in the training of new deputies. I am very excited to start this new challenge and grateful for the opportunity to serve White Center for the last few years.

My experience as the Storefront Deputy has been very positive because of the relationships with people who work for good in the neighborhood. Through you all I have learned what it means to be part of a caring, creative, multi-cultural community. I appreciate all the support you gave to the Sheriff's Office on so many different occasions.

Over the next few weeks the Sheriff's Office will be selecting a new White Center Storefront Deputy. If you wish to be heard about the priorities of the neighborhood or the role of the Storefront Deputy, now is the time. You can contact Captain Ted Boe, Theodore.boe@kingcounty.gov, or me, Benjamin.myers@kingcounty.gov.

Thank you for your commitment to the neighborhood.
BJ
Deputy Myers started the storefront job in fall of 2011.
You can follow any responses to this entry through the RSS 2.0 feed. Both comments and pings are currently closed.