Mudhoney in White Center: Band, fans scream for ice cream @ Full Tilt
Maybe you've been in Full Tilt Ice Cream's White Center shop with a wall-to-wall crowd on a sizzling summer day? Multiply that size of crowd times five or so – and that's what filled the shop Wednesday night, with plenty of crowd spillover out front, for Mudhoney, whose members arrived via … crosswalk: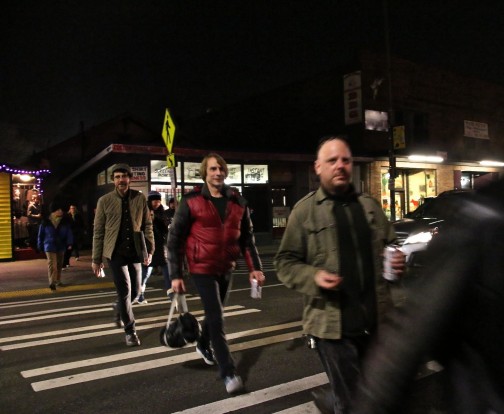 Full Tilt proprietor Justin Cline told us the shop filled to capacity way before showtime: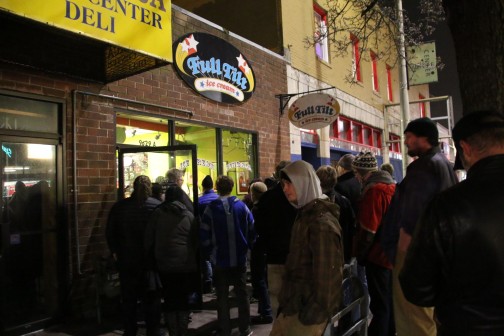 Back inside, this had all started as an ice-cream launch party, for new Full Tilt flavor Mudhoney, and yes, there was scooping going on: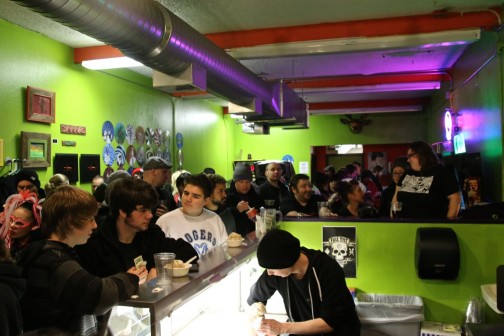 But the spectre of grunge-rock legends at centerstage next to the counter, less than a week after sharing the KeyArena bill with Pearl Jam, was the main course. Now that the band's played on, go check out the ice cream.
You can follow any responses to this entry through the RSS 2.0 feed. Both comments and pings are currently closed.