Night Out party time in White Center!
(Jasiah, enjoying the downtown WC party)
Night Out is here – and two big events are under way in White Center – one at Steve Cox Memorial Park, and one in the downtown business district, featuring the $2 food walk – here's the map:
Have a great time!
ADDED: While visiting the downtown party, we also spotted King County Sheriff's Office Deputy BJ Myers:
KCSO also had a presence at the North Highline party attended by residents including Barbara Dobkin, who shared this photo featuring KCSO Sgt. Cindi West: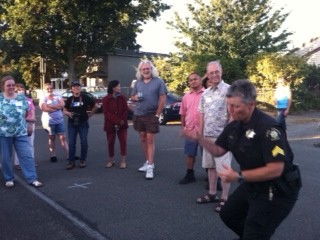 Beautiful night!
You can follow any responses to this entry through the RSS 2.0 feed. Both comments and pings are currently closed.