White Center businesses: New medical-marijuana outlet USC 2 opens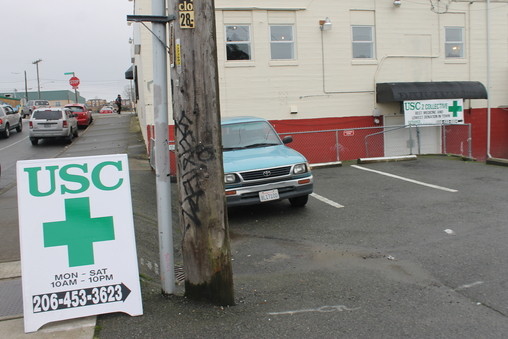 A new medical-marijuana dispensary has just opened in downtown White Center – on the lower level of the White Center building that once housed a short-lived medical-marijuana "lounge." The lower rear entry of the building on the southwest corner of 16th/98th is the doorway for USC 2. ("USC" also was the name of the dispensary that was briefly open in the southernmost block of Delridge, just a few blocks away from this location, and now – according to one online directory – is in South Seattle.) USC 2 has yet to respond to our note with a few followup questions; with its opening in the building that previously was home to The Wall, The Hang Around, and GAME Lounge, there are now three marijuana businesses within about a block of each other on 16th in downtown WC – Herban Legends, the Northwest Cannabis Market, and this one. Their status has not been affected by the passage of Initiative 502, which requires the state to come up with rules for growers and sellers by next November, at which time it'll take applications for people interested in entering the cannabis business.
You can follow any responses to this entry through the RSS 2.0 feed. Both comments and pings are currently closed.