Update: Woman found dead after fire in 9800 block of 28th SW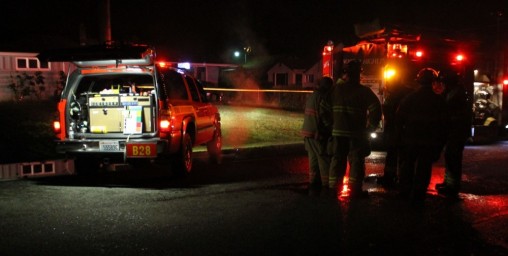 5:44 PM: Seattle firefighters are assisting North Highline/Burien firefighters at the scene of a house fire in the 9800 block of 28th SW, just south of Roxbury Lanes and the Roxbury Safeway. We are at the scene and will have more information shortly.
5:51 PM: Just talked with the incident commander, who says a woman was found dead in the bathroom of the home, possibly overcome by smoke. All they know is that she is in her late 60s or early 70s. The house itself was not that badly damaged, but it was a very smoky fire. Investigators are starting work to see what caused it. 28th SW will be shut down in the area for a while.
6:50 PM: Acting Battalion Chief Ernie Brown briefed media at the scene (this has drawn several TV crews as well) a short time ago:
We'll update with anything else we find out later.
8:35 PM UPDATE: A friend of the 71-year-old woman who lived at the home, a longtime local business owner, tells us her friend is the fire victim, and that her family mostly lives out of town but will be contacted. Our policy is to not publish names until it's been confirmed by either authorities or relatives that next of kin has been notified. The victim's friend remembers her as "a wonderfully sweet and kind lady with a wicked sense of humor; a dear friend who will be greatly missed."
10:16 PM UPDATE: Just went back to check – 28th SW is reopened. One fire vehicle and a TV truck remain at the scene.
You can follow any responses to this entry through the RSS 2.0 feed. Both comments and pings are currently closed.